If you decided to get married in a remote, wild and stunning place far away from home the first thing you need to make sure of is to prepare your guests for your destination wedding! So in this article I want to share with you some useful tips on how to prepare them, I am especially referring to your direct family and close friends. There is always a bit of "fear" of the unknown that you should deal with, when you announce your destination wedding in a country such as Peru. Many of your guests might not be expert travelers or might not know Peru at all, except for Machu Picchu of course. Some of your guests are not really into traveling, while some others might be extremely excited by the idea of discovering a new place, it really depends. Obviously this is also related to the average age of your guests; if you are dealing with young guests in their thirties for example they would be most likely thrilled by the idea of a new place to discover, since they have an inclination to travel abroad and they are used to. If you are dealing with older people, the excitement for a trip abroad may vary; there would be a bunch of people eager to a new experience and some other who are not so excited by the idea. To deal with this issue here some tips to consider before sending out your wedding invitations:
Talk to your direct family and close friends before sending the invitation. Avoiding the surprise effect could be a good advantage for you, since they will have time to think about the idea and to process it. This is also a way for you to make sure that they are able to attend your wedding and they will understand how important their presence is to you for your special day. They will understand that it is sooooo important that you are also eager to sacrifice your venue and location idea for them to be able to attend.
Send your invitation in advance: once your family and close friends know about your decision it is time to send the invitation to all the guests on your lists. It is essential to send the invitations out at least 8-10 months in advance, remember that this is not a classic wedding celebration, this is a destination wedding and people need to start planning in advance. They need to check their finance first and see if they are able to attend or if they need to start saving money for a couple of months, they need to start checking their flights and plan everything accordingly. So send the invitation quite in advance!
Create a website for your wedding celebration: in my opinion this is mandatory! Your guests will be lost at the beginning so a website is a very useful tool to share information efficiently. It is important that you include there all the information that they need such as: international flights, airport pick-up options, accommodation options (Hostal, Hotels, private houses, etc.), activities, restaurants recommendations, tours options and other travel tips. Since this is a destination wedding you might want to create a specific itinerary for your guests, including some sort of tours, activities, parties, dinners, etc. So all this must be included on your website. Remember to constantly update your website and be in touch with your guests if they have questions and need advices.
Welcome your guests: they will have to make travel arrangements to attend your special day, they will have to spend money and you have to show them that you really value that. It is a nice way to welcome them properly. For instance you can prepare special welcome bags that they will find in their hotel room on arrival. You can fill this bag with local products, for example in Peru you can include a bottle of Pisco, Peruvian "canchita" (corn), Peruvian coffee and much more. I have already talked about welcome bags here. Other way to welcome them is to organize a welcome dinner or a welcome cocktail in a special place, which will give your guests time to socialize and relax after their trip.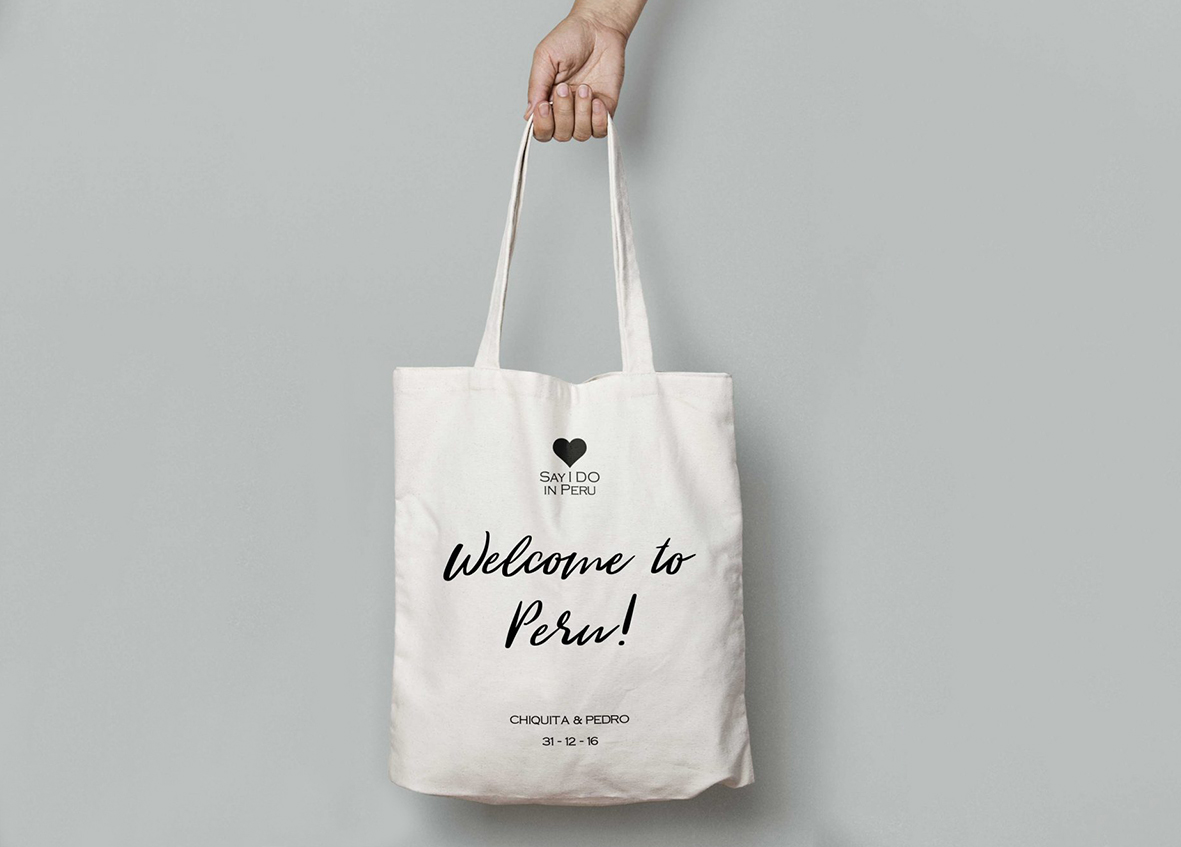 What you should always keep in mind is that this is not a classic wedding, this is a destination wedding and it is important to consider it this way; your guests will need advices and information on the country and you are the host here and you need to answer them. I always suggest my couples to work with us also for the travel arrangements part, since this would avoid a lot of stress for them; guests could bombard you with questions of any kind which sometimes you are not even able to answer. So it is always better to rely on professional travel experts, who will make your wedding planning process and your entire life much easier before your wedding day.