Finally you have chosen THE ONE, the person of your life and set the date for the most important event of your life: your amazing wedding! You obviously want your loved ones there and them to have a pleasant and enjoyable moment at your wedding day! Why don't you start surprising them from the moment they receive your wedding invitation?
So, what's next? You have to choose the theme. There are plenty of ideas, options and ways to invite your family and friends, but the key to a truly unforgettable marriage invitation depends on the design you use, that's why you got to choose amazing colors and an awesome theme. That sounds a little bit sketchy but you'll get there we swear, start looking for a color palette that really represents our love guys, the essence of you two, because after all that's what is about!
If you chose Peru as your wedding destination, you need to know that you have a lot of patterns that you can use, each of them comes from a different areas of the country! Do not forget that Peru is filled with art and culture and this can be a truly inspirational thing in regards of the design of your invitations.
Our first option is to go for something classic, fairly clean, but with a nice decoration that will get to your guests and give an incredible idea of what they will see the day of the wedding. If you have a big wedding with more than 100 guests just ask a graphic designer to make it, but if you have a very intimate wedding with few guests, mainly friends and close friends, you can paint the invitations by yourself, your guests will really appreciate that and this, since you can make the invitations personalized for each guest.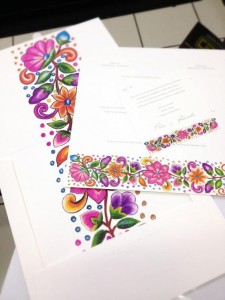 Now, if you are thinking about something more colorful with specific patterns we have a second option. For example you can go for a flowers pattern, which is always a classic when it comes to weddings. Just choose your favorite flower pattern and personalized it to your colors palette! If you opt for a dark color, such as purple or blue, you could combine it with silver or gold, this will make your wedding card more stylish and glamorous!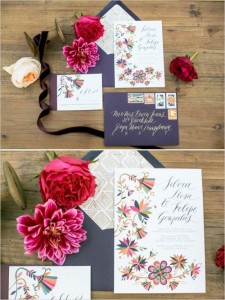 But what if you're more of a minimalist kind of person? Well, we got an answer for you: just opt for white paper with only few details! The paper could be white, ivory, nude or nude and you just have to add a little colorful detail. To use a really nice kind of paper in a pastel color with a little and delicate pattern and a calligraphic typeface will make your wedding card a simple and sophisticated one.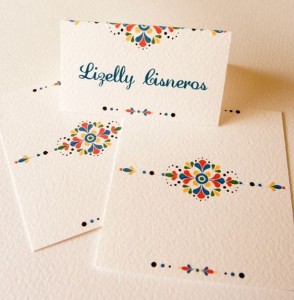 Another option it's nature itself, especially if you're an eco-friendly girl or woman. Why not? After all you probably have tons of used paper just laying around in your house. The answer is recycled materials, this is a great option. You can take all those papers for recycling and make amazing, modern, eco-friendly invitations. Don't forget to combine it with an amazing typography and a colorful decoration. It will turn out beautiful and you will be doing the world some good, not bad, huh?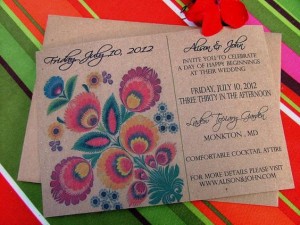 If you fancied this options, don't forget to follow us for more, like, pin and share this post with all your friends and don't forget to visit our website and follow us on Facebook, Instagram and Pinterest!