Bouquets are one of the most important things to choose when you are planning a wedding, even if some bride really put little attention on this detail, since they prefer to focus on their dress or on the ceremony atmosphere.  We believe the wedding flowers are a great part of your wedding and you have to think about it with attention trying to match the colors and style with your wedding theme, your dress and the color palette you choose. Here you will find beautiful examples of wedding bouquets that you might choose for your wedding day, and as you can see we tried to propose you colourful flowers combined with beautiful Peruvian traditional fabrics. That way you will add a special peruvian touch to your wedding celebration and you will have a very oroginal bouquet.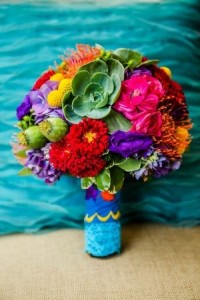 Peru is famous for brilliant and warm colors, as well as for great and joyful celebrations. If you decide to pick the traditional Peruvian theme don't step back and dare to choose Peruvian flowers for your wedding bouquet, such as Peruvian astromelias. These flowers are very colorful and they will add a vibrant touch to your wedding dress.You can wrap your bouquet in colorful traditional fabric, as in the photo above or you can simply go for a white fabric, as shown below, with a little colourful detail on top. In this last case flowers and green foliage will be the bouquet's main attraction.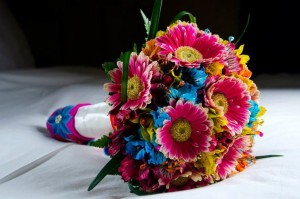 If you don't like the bright colors, you can choose flowers in pastels tones with some flowers of strong colors, such as yellow or red, to create an incredible and beautiful contrast. Do not forget to add foliage and a green touch as well.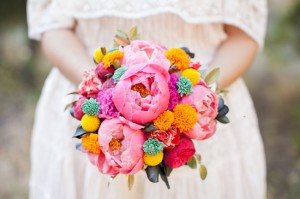 Other option is to combine several traditional Peruvian flowers and to decorate the base of the bouquet with traditional Peruvian pompoms, which make your wedding bouquet very original and trendy. The fashion icon, Sarah Jessica Parker,  in her last trip to Peru bought so many Peruvian pompoms in a local market as souvenir and as material to create brand new fashion accessories! So do not forget this original tip we are giving here, it will be very useful if you want to have a trendy wedding celebration in Peru!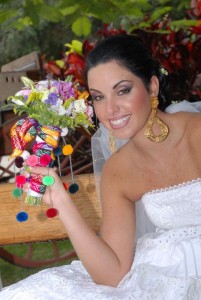 If instead of a small bouquet, you want a big and airy one you can let fly your imagination and opt for a mixed-flowers bouquet, very colorful as the one below! The key here is to choose flowers of different sizes and lengths and combine bright colors all together. This contrast will actually create harmony and your guests will be amazed by your flowers, since will be the first thing they will look at! You can also use long and colorful ribbon to decorate it!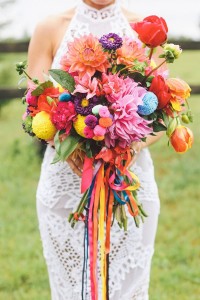 Those are only few ideas; you can do many of different things playing with flowers colors, sizes and decorative tools. The most important thing is that your wedding flower bouquet reflects your personality and the theme you chose for your special day! Our advice is "just let your imagination fly"! If you like this don't forget to follow us for more wedding tips, pin and share this article with your friends.