In the last years I helped several brides who really wanted to recreate a special and traditional Peruvian atmosphere for their destination wedding in Peru! One of the most important decorative elements for a wedding reception is the centerpiece, an essential part of your wedding table set-up. Centerpieces are very useful to create a specific theme or atmosphere and you have to choose the right one.
From my experience a bad centerpiece can ruin all of your wedding photos, so thinks about it twice before making this choice!
The basic rule is that the centerpiece must be in line with your color palette, I mean the colors you are using for invitation cards, Thank you cards, save the date, ceremony programs, ceremony flower arrangements, your bouquet and your maid of honor dresses. For example, if you are planning to have a lavender and ivory bouquet you shouldn't use light blue or yellow flowers for your centerpieces. These are basic tips, but there is so much to say on these topics…I am sure we will have time to do so in the future. If you have questions, just drop me a comment and I will be happy to answer.
For brides who really wanted to recreate a Peruvian traditional atmosphere we came up with several ideas of floral and non-floral centerpieces that I would like to share with you, and I am pretty sure that you can use them for your Destination Wedding in Peru: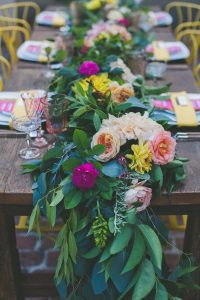 As I always say, when it comes to a wedding reception, flowers make a big difference
! We opted for a long greenery centerpiece filled with traditional Peruvian flowers for an
outdoor reception in a Hacienda in the middle of the Sacred Valley of the Incas. This kind of floral arrangement is actually extremely visible and creates a beautiful effect. You do not need to use a vase or any other special box, just fix the flowers on the table and let them speak for themselves. This kind of centerpiece is ideal with wooden rustic tables. The rustic effect you create will be awesome!
Another idea is to use traditional Peruvian fabric on the table and add some details, such as Peruvian traditional astromelias or succulents. This set-up is ideal for outdoor wedding and your guests will love it. If you use little succulent plants they can also bring them home as favors. This centerpiece idea should be used for couples who really want a traditional Peruvian wedding and that love colors, since Peruvian fabrics are, a part that beautiful, also very colorful and they are not recommended for couples who like simple decoration and plain colors.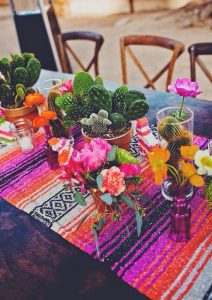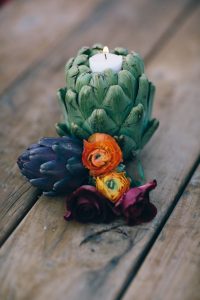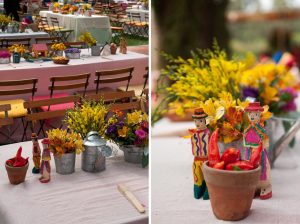 Another way you could add a traditional Peruvian touch to your wedding table set-up is to use as centerpiece Peruvian ingredients, such as yellow or red aji peppers, fresh or dried fruits or traditional Peruvian items, such as little sculptures of men or women dressed with traditional dresses or crock pots, that are often used in the criolla cuisine. In this way be sure that your guests will not forget that they are in Peru for your destination wedding.
We believe that adding a traditional touch to your wedding reception tables could add value to your destination wedding in Peru. These are only some ideas of Peruvian-style centerpieces, but we can find tons of amazing options for you.