We know you dream of your wedding dress, and your goal is always to find the perfect one, the most original and amazing you could wear in your life. And when you choose the dress you need to consider many things like place, theme, season, color palette, etc, but you shouldn't stress about it, that's what we're here for.
If you opt for a destination wedding in Peru and you want to have a dress inspired to the Peruvian culture, you have many beautiful, exciting and interesting options. Peru has a very rich textile culture and industry so you could really enjoy wearing a Peruvian style dress and impress all your guests! Especially if you have Peruvian guests at your wedding this would be a great thumb up for you!!! Here some ideas that we want to share with you guys:
Short and modern wedding dress:
If you are planning to get married in summer season or in a warm place and you want something casual but stylish and original, this is a great option. It is a short dress, ivory tone with colourful details at the bottom. Peruvian regions have different fabrics and colors patterns, this is only one option but you can find plenty of patterns and colors. Perhaps you can use the colors and graphic patterns of your region if you are Peruvian or your fiance's region if he is the one coming from Peru. Do not forget that there's nothing better than adding a personal touch to your wedding! This could be for decoration, music or your dress. Wearing such a traditional dress is very original and it will make your wedding ceremony a unique one.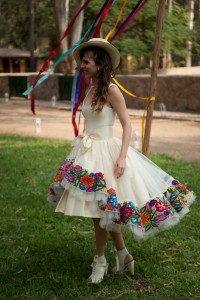 Long and classic wedding dress with a traditional touch
Peru has a lot of cultures, traditions, folkloristic dances and customes. Each region has its own cultural background, which is one of the many strenghts of this beautiful country. One of Peruvian traditional dance is called "Marinera", a very stylish dance, filled with color and elegance and this is actually the inspiration for this dress, which looks original and very colourful! Nothing better than being the bride with the most original wedding dress, don't you think?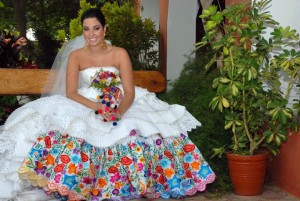 Simple and original wedding dress
If you're not that interested in a dresses that is fully traditional and in Peruvian style fabric and graphic patterns, we understand that maybe for you less is more, and mixing contemporary elegance and traditions could be the best option. This is an elegant and sophisticated wedding dress enriched with a typical embroidery and different layers of colourful fabric. Simple and pretty, a great option for sure!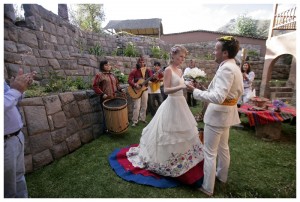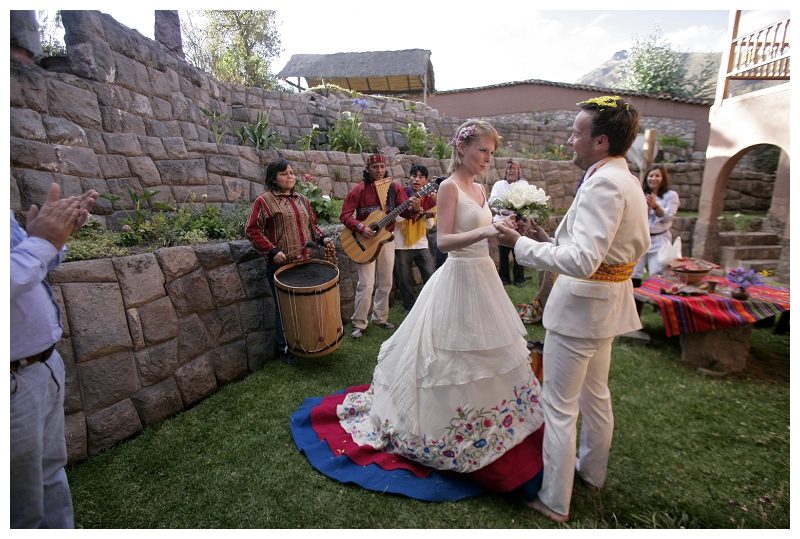 But besides your wedding dress, the only thing that a bride wants on her wedding day is to look amazing, unique and beautiful! After all, this should be a special day for you and it only comes once in a life! The goal of this article is to inspire you and let people know that Peru has sooooo much to offer when it comes to culture and traditions!
For more information on our wedding planning services and guests travel management services just visit our website and follow us on Facebook, Instagram, Pinterest and our Youtube channel!