Invitation cards are the business cards to your wedding celebration. From your invitation card we can understand what is your favourite wedding style. Do you have the venue, the date and time? So now start thinking about your wedding style, which should reflect your tastes and personality! Once you get this clear you can start preparing your invitations!
Here you will find 4 invitation ideas that can fit different wedding styles! i am sure you will find the one you are looking for!
1. Modern and Nature
Do you want to get out of the conventional wedding stuff? This invitation is ideal for a modern wedding.
The abstract image of the envelope background can give a great result if you are looking for something different.
The blue, green and pastel colors give us this quiet that only nature can give us. Ideal for an intimate wedding or a beach wedding. I usually suggest this style to couples who want to tie the knot in Cusco, sorrounded by great energies and special landscapes.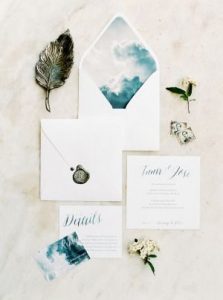 2. Baroque
Gold is that spark of joy and happiness that every glamorous and elegant bride wants to represent.
Gold can usually be combined with any color, in this case it is combined with blue, which makes a beautiful and elegant contrast. the details also recall the famous baroque style.
This invitation would look perfect for classic weddings, in classic venues with high ceilings and columns.


3. Minimalist
There are people who love details, abundance and complex stuff and others who love simple things.
This invitation is inspired by simplicity and elegance.
The combination of three types of typography gives dynamism to the invitation and the light pink background ad a touch of sweetness.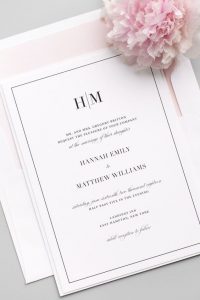 4. Rustic
Whethever you have opted for a vintage wedding or a country wedding, a rustic invitation is definitely the best choice.
Being rustic does not mean that you lose elegance, which is a plus when choosing this type of invitation.
The leaf detailing around your names is the perfect detail to reflect your love for nature, plus you could use recycled paper to emphasize your rustic concept!