Last year I received a very special request, a couple wanted to get married on December the 31st and I actually was a bit concern about the date at first. My concern was related to few points:
This is a crazy time of the year; people in the event organization industry are extremely busy with their New Year's Eve celebrations and it is going to be extremely challenging for me to find suppliers available that day!
Most suppliers will charge twice as much the normal price and if we are lucky enough, sometimes they charge triple! And it would be hard to negotiate a good service for a fair amount of money in this time of the year!
This must definitely be a SPECIAL MOMENT, not only for the couple, but for all the wedding guests! And when I say SPECIAL MOMENT I really mean it in this occasion! You know December the 31st is the most important day of the year for many people and they have high expectations on how to celebrate it!
Despite my concerns, I immediately started thinking about things to do to overcome all of these points and at the end, I was actually pretty surprised and satisfied of how things turn out.  All run so smoothly. First, I tried hard to negotiate fair prices with suppliers in behalf of the couple and I started looking into marvelous venues. The venue needed to be outstanding for such a special occasion! After finding the perfect ballroom in the heart of Lima's business district I started to look into decorations and the entire reception schedule. Bride and groom obviously wanted to have a New Year's Theme wedding, so here a couple of items that you cannot miss for this kind of event:
Glitter: when thinking about the color scheme do not forget that glitter is a very important element, so go for a silver and gold, black and silver, black and gold kinds of color palette. In this occasion bride and groom decided to opt for a black and gold color palette and it worked extremely well. Also guests' dress code sticks with these colors as well, which was nice especially for the pictures.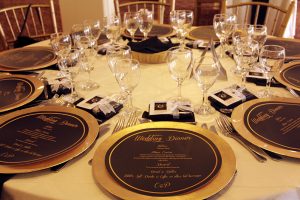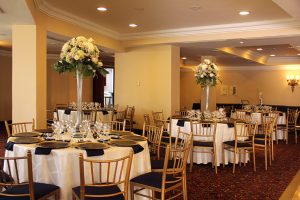 Bubbles: this is an essential element of the celebration! Generally you cannot run out of Champaign or any kind of sparkling wine for your wedding celebration, imagine if your event is on New Year's Eve! This cannot be a possibility! I suggest you to be prudent and order more Champaign than the one you would order for a normal wedding. Keep in mind that this is a special day and all the people will party hard and they might choose to drink Champaign all night considering the occasion. You can also consider the idea of a Champaign tower.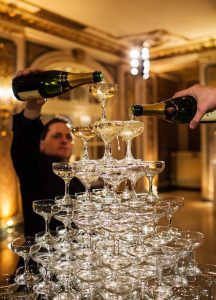 Midnight Toast: my advice here is "have a plan" for the midnight toast! This should be a special moment and you might want to arrange a nice countdown. So coordinate with the Dj some sort of countdown and a hit to play at midnight, also you can arrange a balloon drop using gold and silver balloons, always stick with your color scheme! Be creative and find a way to make this a very special moment for your guests, and remember they are there to celebrate your union, but also to celebrate New Year's Eve!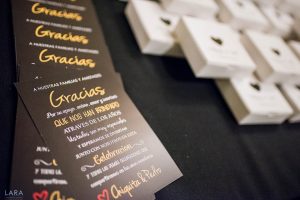 Sparklers: even though the majority of venues do not allow sparklers and fireworks, if you are lucky and find one that allows them, use it since they are a staple for this kind of celebration. And they also help you creating a very special atmosphere; you will have great pictures with the lighting they create, so if you can go for them!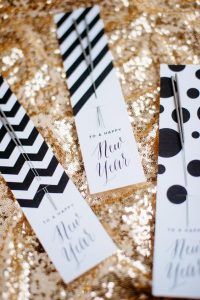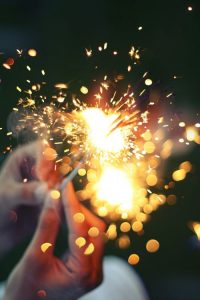 Party Props: do not forget that people want to have fun and party that day, so buy New Years' Eve party items, such as glitter hats, noisemakers, party horns, confetti poppers, silver and gold tiaras, and New Year 's Eve crowns. They will certainly add festivity to your wedding celebration and you will have fun pictures of your event! If you are planning to have a Photobooth the New Year's Eve theme will be a great plus and your funny pictures awesome!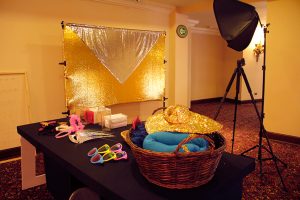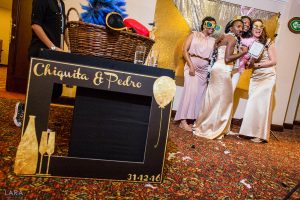 You are still on time to plan your New Year 's Eve wedding to welcome the 2018, so why don't you start right now? As always if you have questions or you want to get married in Peru, contact me at info@sayidoinperu.com and I will be happy to help you with your destination wedding celebration!