Few weeks ago we had a wonderful wedding ceremony and reception in Lima. Bride and groom were looking for an unforgettable destination wedding in Peru and they were in love with Art Deco style. Everything needed to be inspired to the 20s and to the style of that time, let's say "The Great Gatsby" style. Do you know "The Great Gatsby"? If not have a look here (https://en.wikipedia.org/wiki/The_Great_Gatsby) and read the book. It will literally transport you in the 20s and you will enjoy the reading.
So what is this Art Deco style about? Art Deco was one of the most fashionable, iconic and pioneering international design and architecture movements in the history. This style was characterized by geometric shapes, such as triangular, trapezoidal and zigzagged ones, smooth lines, chevron patterns and elements that bring us back to the Greek and Roman classicism. As for colors, Art Deco introduced neutral colors, black and white were a must, as well as grey and beige…let's say that monochromatic approach is another Art Deco's feature. Also the key to recreate this style is to add bright metallic elements, for instance using color splashes of gold and silver. Being a wedding planner also means research and investigate to make couple's wishes come true!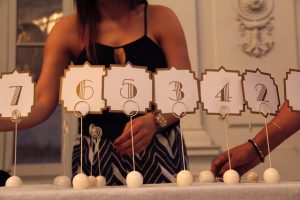 This wedding was all about black, white and some gold accent. We found the perfect venue with black and white floor tiles, perfectly in line with the style bride and groom were looking for. Checkerboard floors are very versatile and with the right decoration elements can also create a cozy atmosphere. The decorators added many white orchids and moss for the table decoration with glass vases filled with water and white candles, several types of tables of different shapes and dimensions, different kind of chairs and tablecloths, as well as different kind of centerpieces. The tablecloths used were basically striped in black and white, or total black or total white.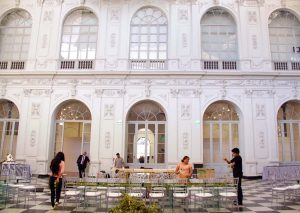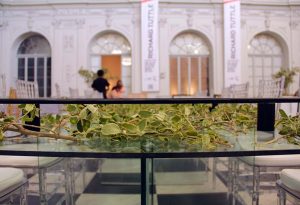 There were different types of chairs and cushions, transparent chairs with white cushions and gold chairs with black and white striped cushions, which help creating an elegant and sophisticated atmosphere. As centerpieces the decorator decided to opt for white orchids with a combination of glass vases filled with candles or water, moss and tree branches, in some table they also placed a tree (a real one!!!) rounded by moss. It was like being in a fairy-tale, the reception area was really beautiful, and although they used very different decoration elements they managed to create a charming harmony. The atmosphere they recreated was fantastic with the right balance between cold and monochromatic colors, gold accents and natural elements (trees, moss and flowers). When you stepped into the wedding reception area you totally forgot about the world outside and the idea was to make guests feel transported in a different age and in a charming "Art Deco fairy tale", where bride and groom were the main characters.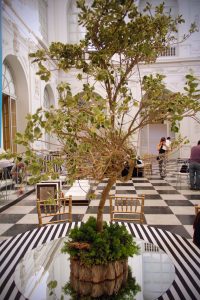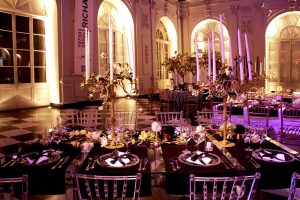 The sweets table was a great success, in perfect style with the Art Deco patterns. Main colors used were black, white and gold, with geometric shapes and smooth lines, triangular pyramid of French macaroons, gold pyramidal structures, mirrors, white orchids, glass vase with water, moss and white candles.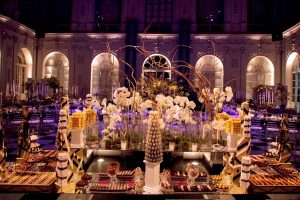 The wedding cake was also amazing, a three-tiered square cake covered with fondant and enriched with gold and white geometric decoration.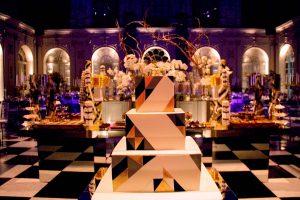 The lighting in the entire reception area was perfect, a soft and dark lighting with accent on the sweet table, guest's tables and especially the long squared groom and bride's table. Bride and groom choose to share the table with the wedding party and close friends.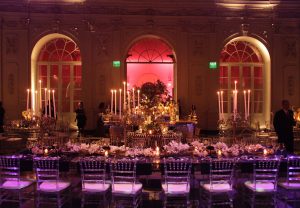 This wedding was a total blast, we loved organizing every little detail, working closer with the decorators to make real what bride and groom had in mind and we really loved how the decoration perfectly fit the beautiful venue.