One of the most common questions I receive when a couple starts planning a wedding is: "Is Save The Date necessary?". Usually couples start thinking about their Save The Date in the first phase of the wedding planning process, since they have to fix the date of the event and start deciding  about the number of guests they want to invite.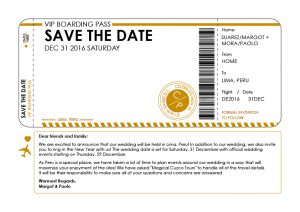 My answer is always the same: having a Save The Date is mandatory, especially if you are thinking about having a destination wedding somewhere in the world. People need to know when you are getti
ng married in advance, so that they can start planning their travel arrangements on time. The aim of this article is to give you some highlights on why the Save The Date is soooooooooo important for a destination wedding! So let's start!
First of all bride and groom start entering into the "wedding mood" when they see the official version of their Save the Date. In few words, they realize that their special day is coming for real and they need to start getting ready for it!
Also, you and your guests need to start planning the trip abroad, and believe me that planning trips for 80-100 people at the same time is not an easy business. This really depends on which kind of guests you have, you can have guests who are expert travelers and they usually can do their own travel arrangements, but you can also have guests who need suggestions, advices or customized travel packages. From my experience also the expert travelers need some travel tips when traveling abroad in countries such as Peru. So, sending a Save The Date you will be sure that your guests will have your wedding date circled on their calendar, which is your main goal!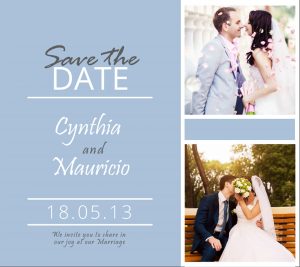 An relevant third point is that your guests will start asking questions on planes, hotel rooms, information on the foreign country, what to do, where to eat and so on. They can feel lost and their reaction will be asking you thousands of questions on the country you are getting married. So do not worry, to avoid replying to each one of your guests you can include a detailed itinerary with suggested activities and tours directly in the Save The Date. I generally use a two-page Save the Date, the first page is the cover page with photos of the couple and the day they are getting married and for the second page I usually send a detailed travel package for their guests. This way they have a travel option ready for them and they feel relieved. In countries such as peru, there are some mondatory things to do: visiting Cusco, exploring Machu Picchu, dining at the best restaurant in the country! So this is what I generally include, but I always customized based on the couple interests and requirements!
Sending a Save The Date will also give you the simplest way to do your initial head-count, since your guests will start sending their confirmation. This is essential from my experience, because it is totally different to organize an event for 80 people from organizing one for 180 people. And believe me the difference it is not only in costs and service prices, there are many other variables to be considered!
The Save The Date's importance also resides in the design you opt for. This will give you to your guests the first impression of the kind of wedding celebration you are organizing. So think twice before choosing a specific style, a specific color palette and decoration details. It is extremely important that you visualize your wedding and the atmosphere you want to create for your guests. It is very important that your Save the Date matches your wedding theme, colors and style!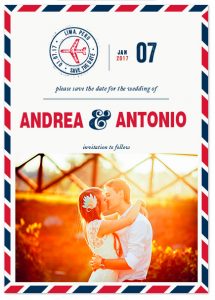 I would also suggest that you do not need to send printed Save The date to all of your guests, but since we are in 2016 you can just send an electronic format of the Save The Date by e-mail, this is a fast, easy and not expensive way to let people know that you are going to tie the knot soon. You can also select the people that do not have familiarity with e-mails and technology stuff and send them a printed version of the Save The Date by mail. This will be easier to handle, since you have to mail only few envelopes.
Finally, as for when to send the Save The Date, I can suggest that for destination wedding the sooner the better. I usually suggest bride and groom to send it at least 12 months before the wedding, so that people who will be attending, have enough time to do their travel arrangements and to take holidays from work (if necessary). You can wait until 10 months before, but as I told you the sooner the better! Your guests will be grateful!