I had the pleasure to organize several outdoor rustic weddings in the past years, but I have to admit that the last one really impressed me for decorations and the beautiful dessert table. Ceremony and reception were held in the same venue, a beautiful hacienda nearby Lima, and everything was set outdoor. In this article I want to share with you how we set up the dessert table, the desserts used and the decoration details.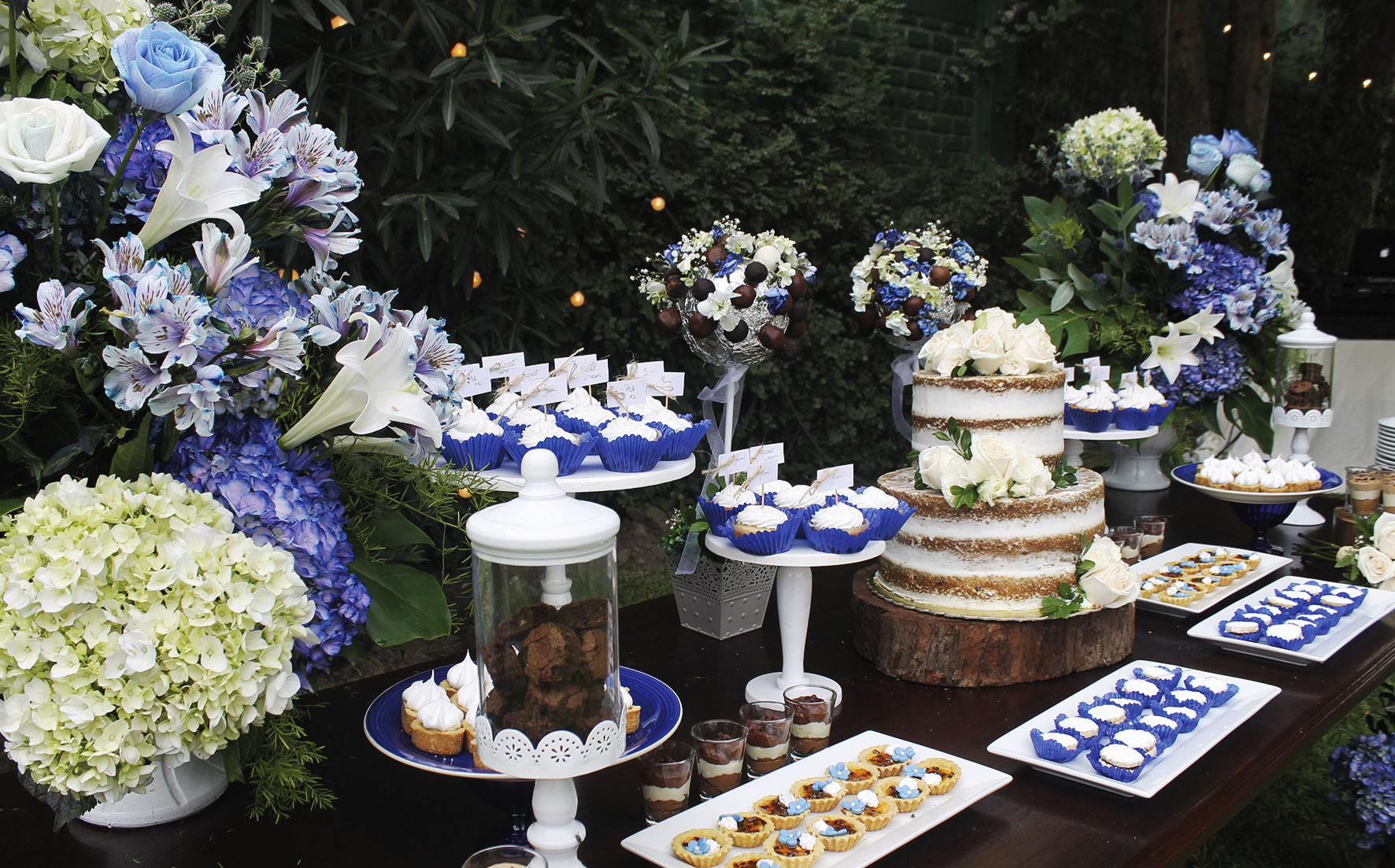 The sweet table was placed in the reception area, alongside the guests' tables. The table was approximately 8 and half meters long, rigorously made of wood, considering that bride and groom wanted a rustic-style wedding. The table was also enriched with flower decorations, in line with the wedding's colour-palette: white and navy blue.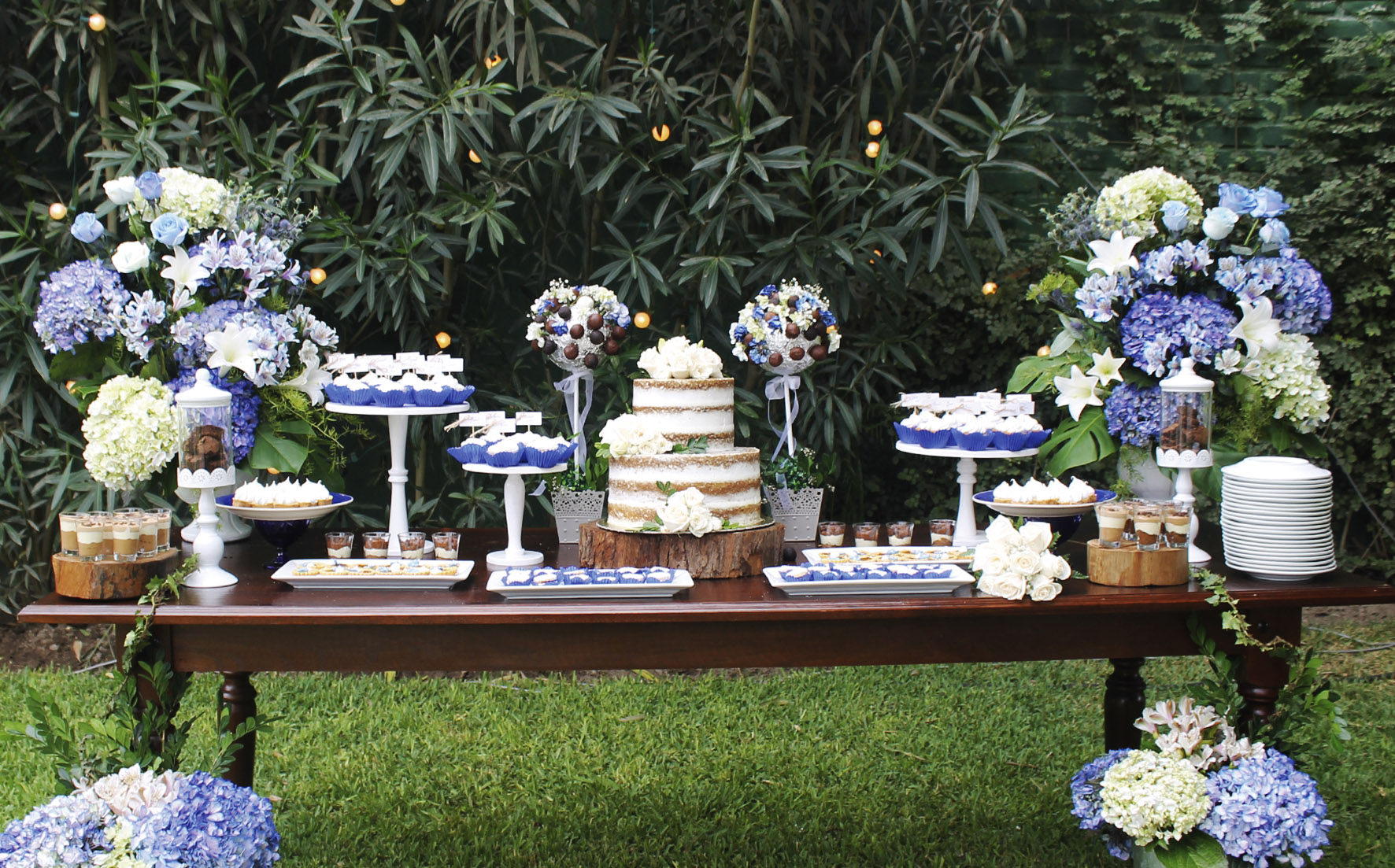 At the centre of the long table we placed the beautiful wedding cake, prepared by Dulcefina., one of our wedding cake supplier in Lima. The cake was a 2-layer naked cake decorated with immaculate white roses and foliage. Bride and groom opted for a carrot cake. It was a very elegant cake and it tasted spectacular!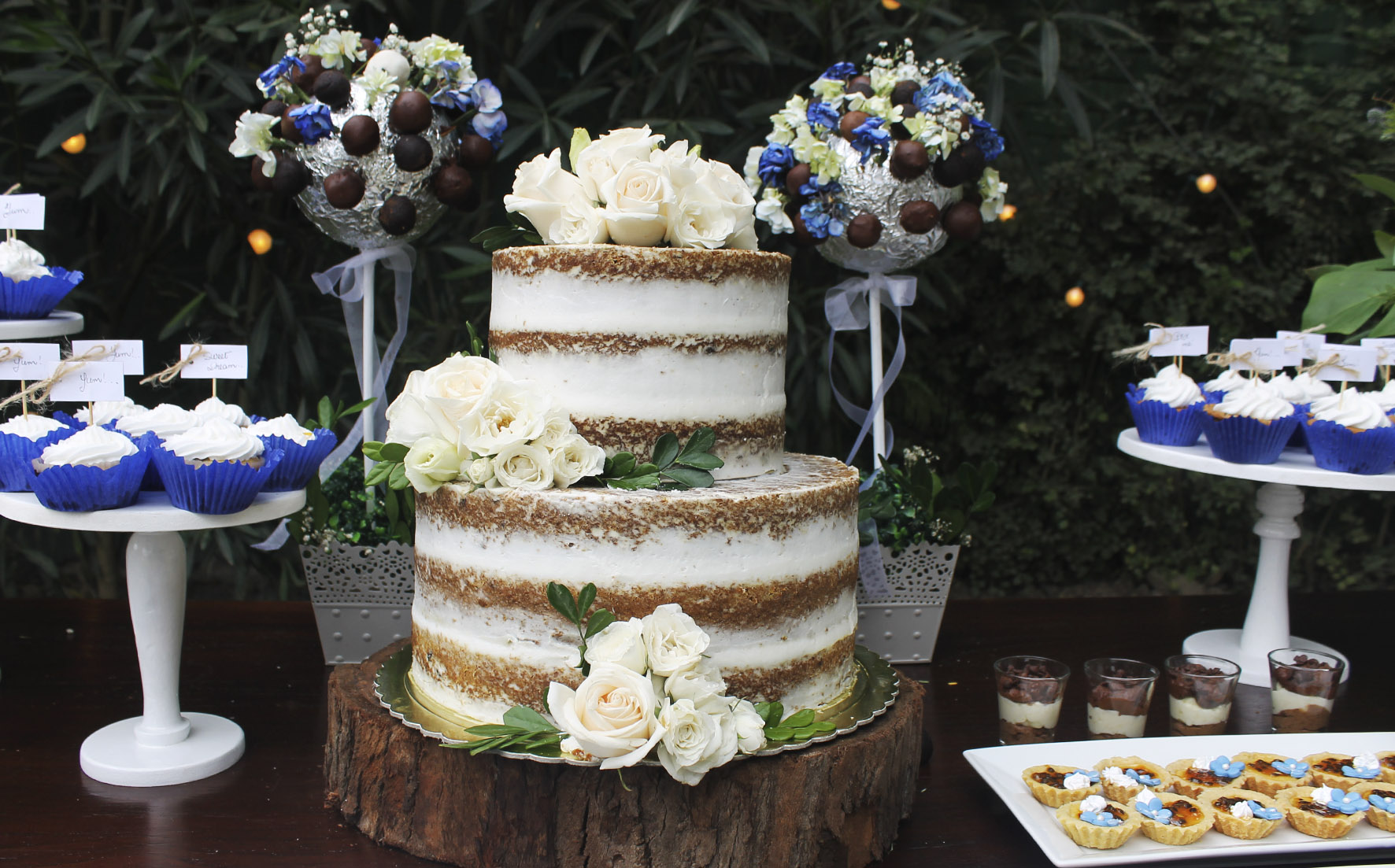 Alongside the carrot cake there were several other desserts on the wooden table, as you can see in the photos. Bride and groom decided to opt for a special mix of tradition Peruvian desserts, such as "Pie de Limon" and "alfajores" and more international ones, such as brownies and cupcakes.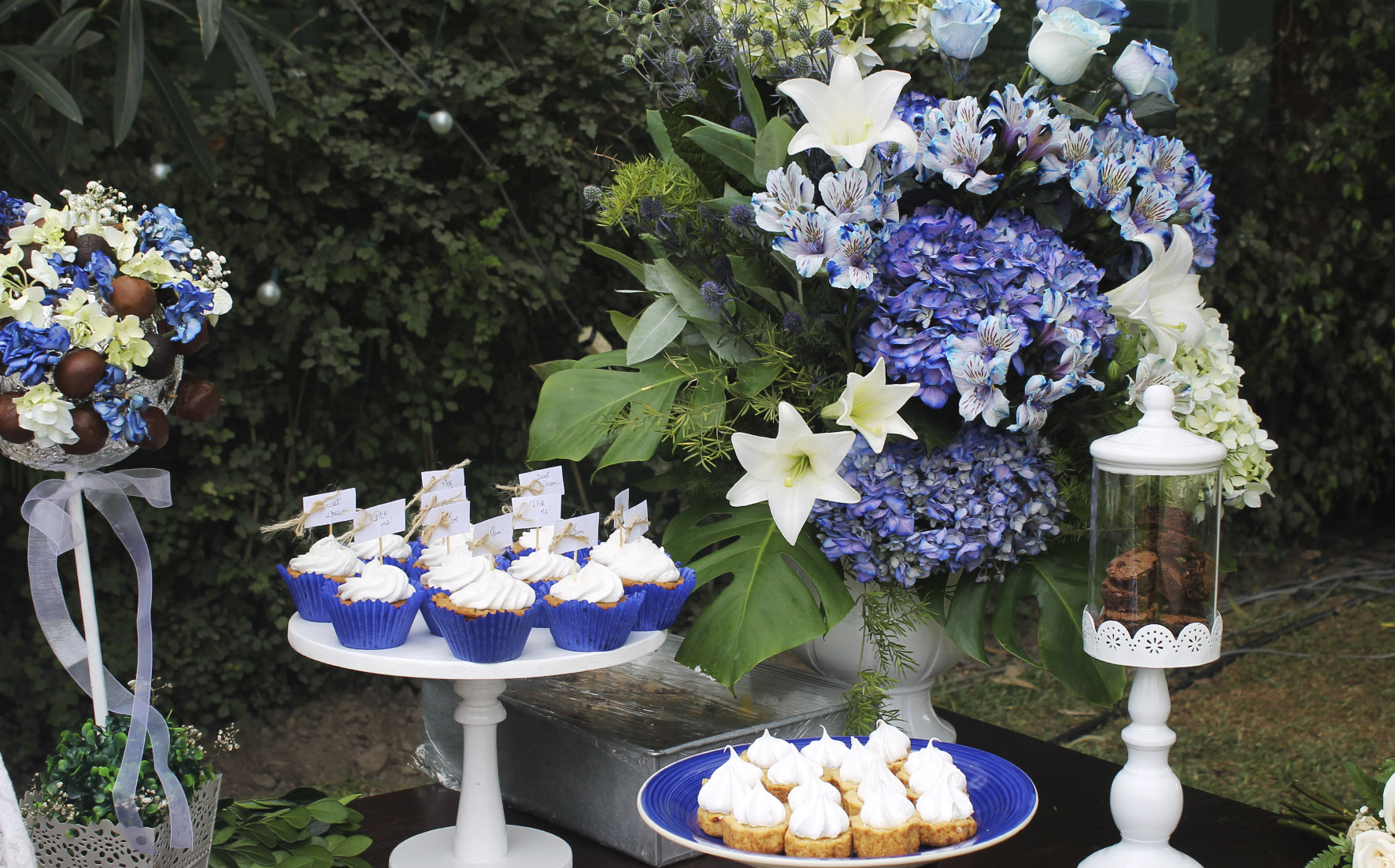 The desserts selected in this occasion were: blueberry and chocochips cupacakes, nuts cupcakes, little lime pies, passion fruit pies, three chocolates mousse shots, cornflour "alfajores". "Alfajor" is a traditional Peruvian dessert made of two soft biscuits, in this case the pastry chef used cornflour, filled with "dulce de leche". To respect symmetries and emphasise the beauty of the wedding cake, we placed two chocolate truffles arrangements decorated with Baby's Breath flowers at the cake's sides. We placed brownies in glass jars, cupcakes and mini pies in cake stands, all wrapped with flower arrangements.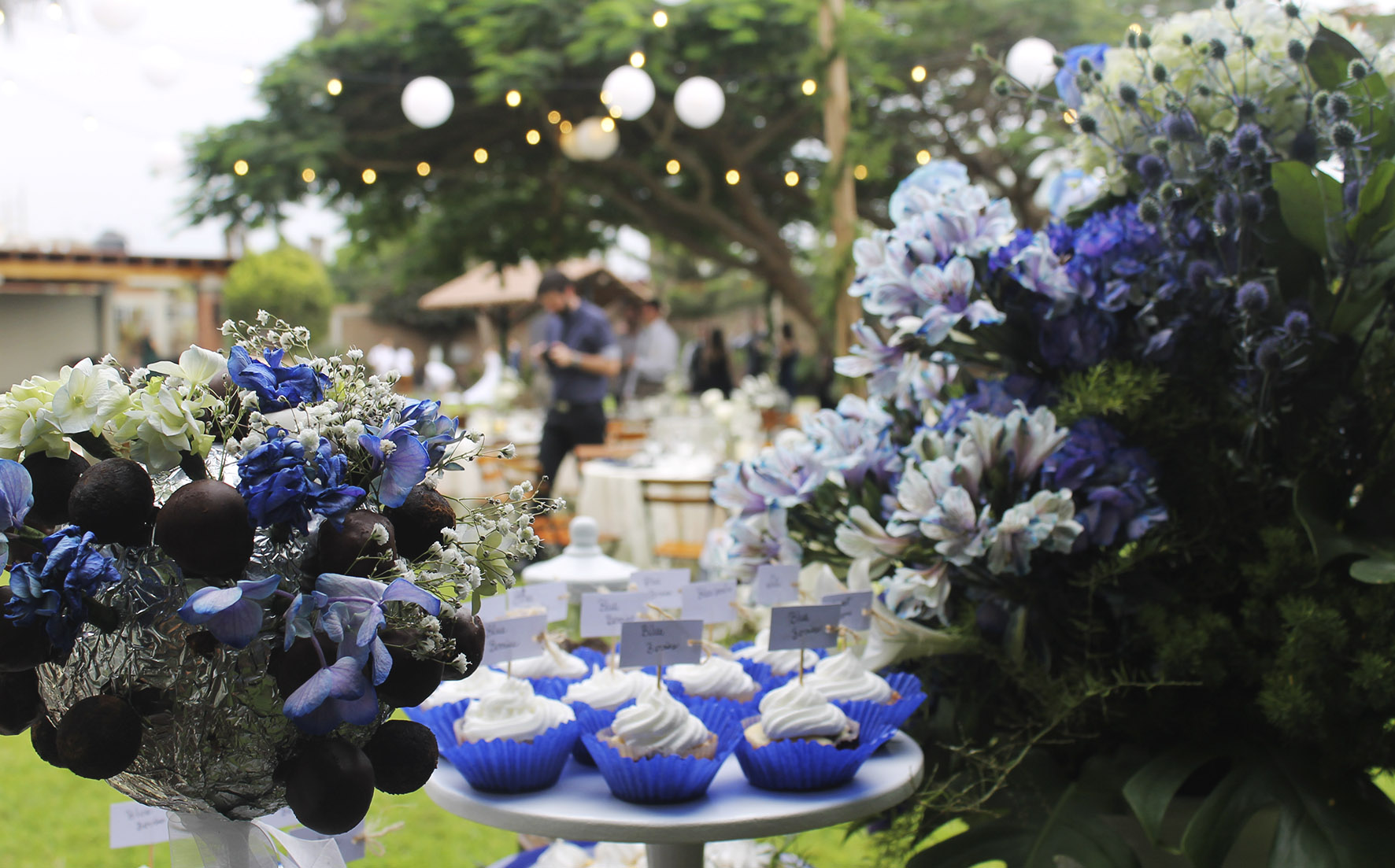 The result was a spectacular dessert table, finely decorated with a rustic style, with delicious desserts. I think this is the ideal desserts set up for a sophisticated outdoor reception in a Hacienda. Guests loved it!