We all know that flowers are always related to wedding and to ceremonies in general, but I had brides and grooms that really were not into flowers. I am also not a big flowers fun, but I understand that in some occasions it is inevitable to use flower decorations. The majority of us thinks that weddings are one of those occasions, but it is not like this. If you do not want to use flowers, you should be creative and use other items to create visual effects. That is why today I want to give you some no-flower decoration ideas for your upcoming wedding celebration!
1. Candles: use candles as centerpieces, try to create a centerpiece with different sizes of candles, better if are of the same color or different tones of the same colors. For example, use five candles of different shades of green or blue. Always stick with your wedding colors palette. You can also use candelabrum or little clear glass vases, to give to your table an elegant touch.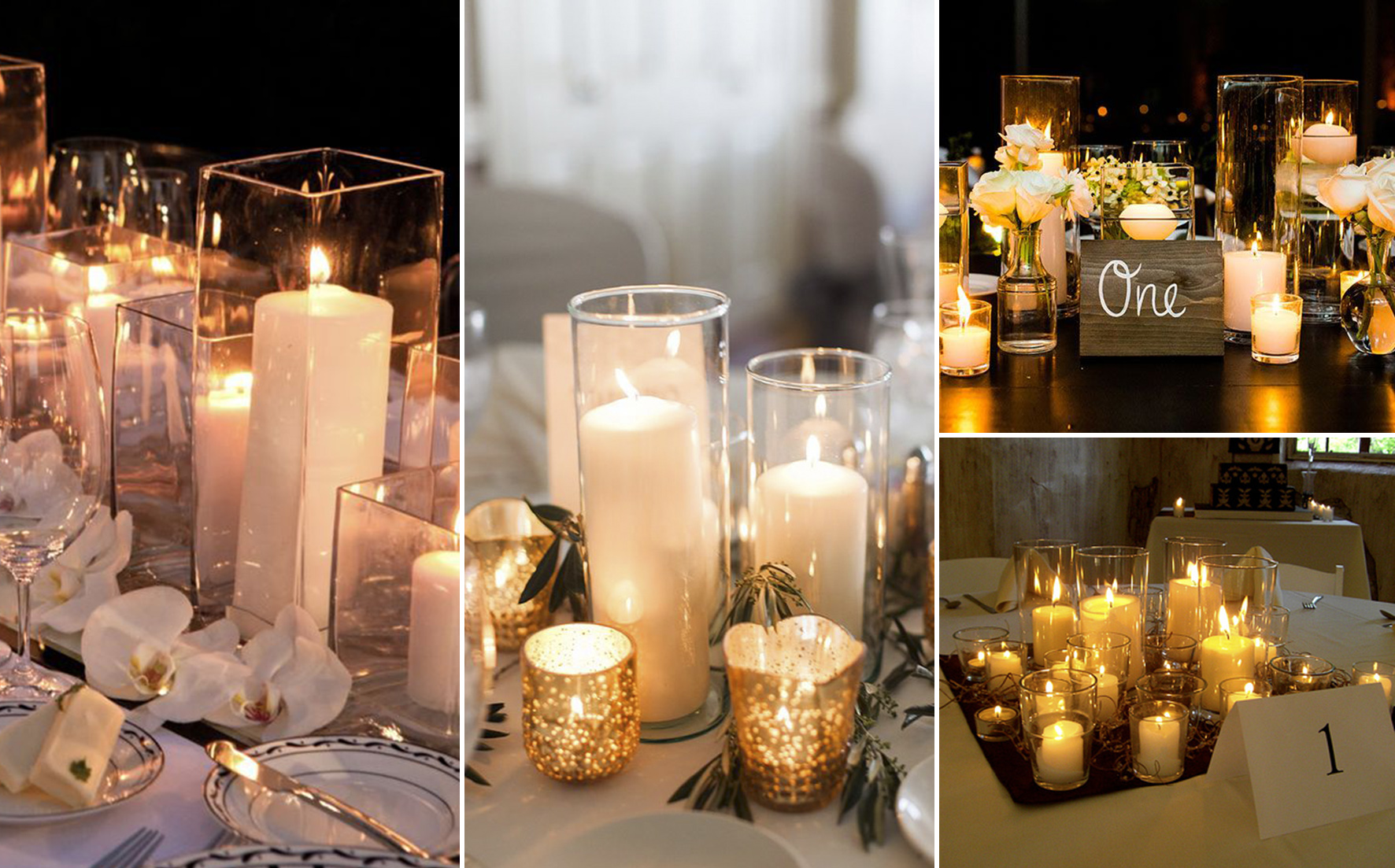 Credits: kylaza Nardi
2. Balloons: use plenty of balloons! I really love the effect of balloons, they create a bohemian and vintage effect if you select the right colors! Try to use pastel colors (light pink, light yellow, light red and blue) if your goal is to have a bohemian wedding celebration. The effect will be awesome! You can even create balloon backdrop or decorate a specific corner of the reception area with them.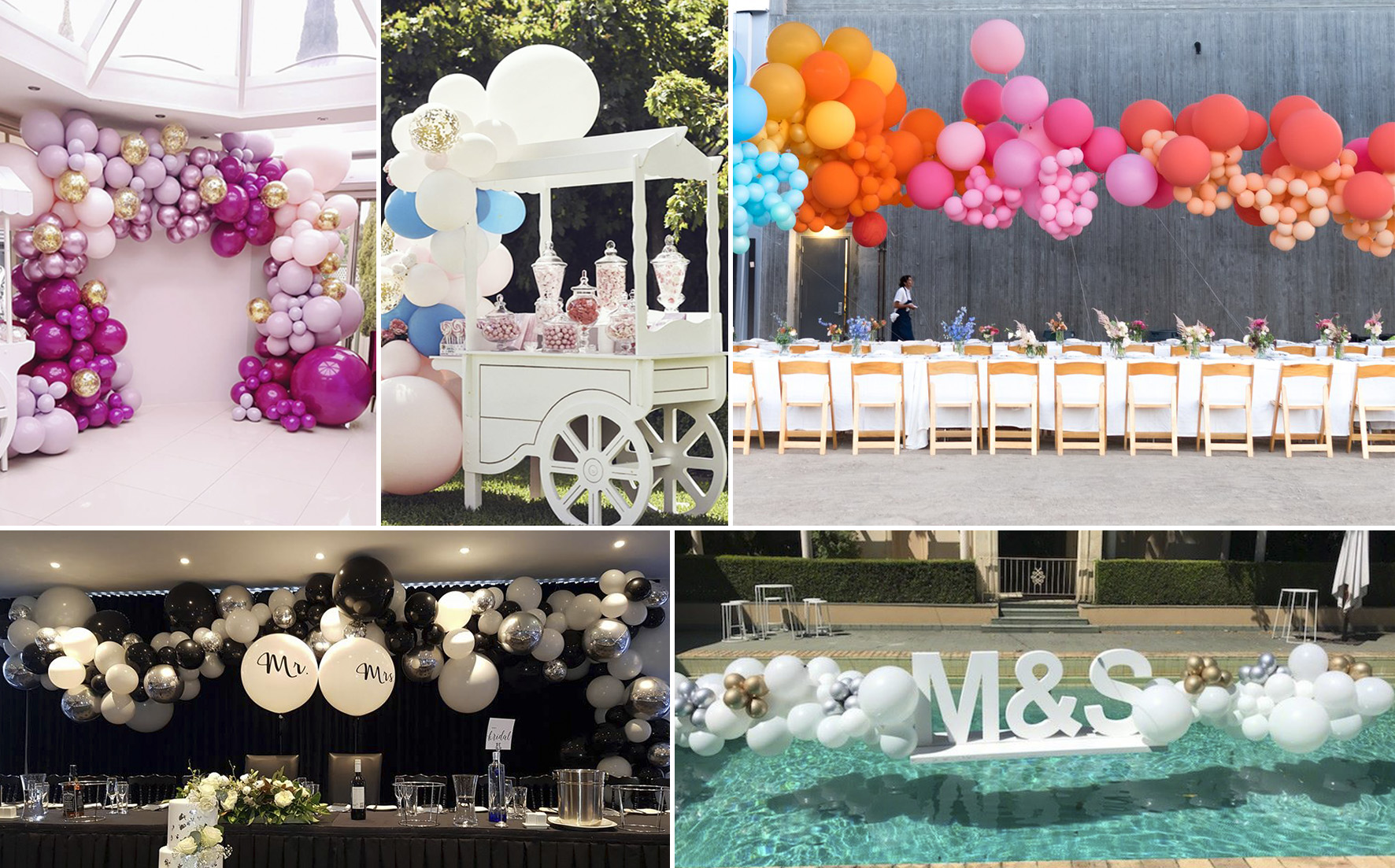 Credits: Boutique Balloons Melbourne
3. Origami/paper flowers: this is a real trend for 2018 wedding celebration. Use an origami centerpiece or create paper flowers to use as centerpiece! Paper decoration is a great option to use instead of real flowers. Once again, try to stick with your color palette, use different shade of the same color for origami. You can also create lines of origami secured with twine and hang them around the reception area.
Credits: The Knot
4. Shells: if you are having a beach wedding, use shells as main decoration elements. For instance, you can create a nice centerpiece with shells of different sizes and colors combined with sand in a glass vase.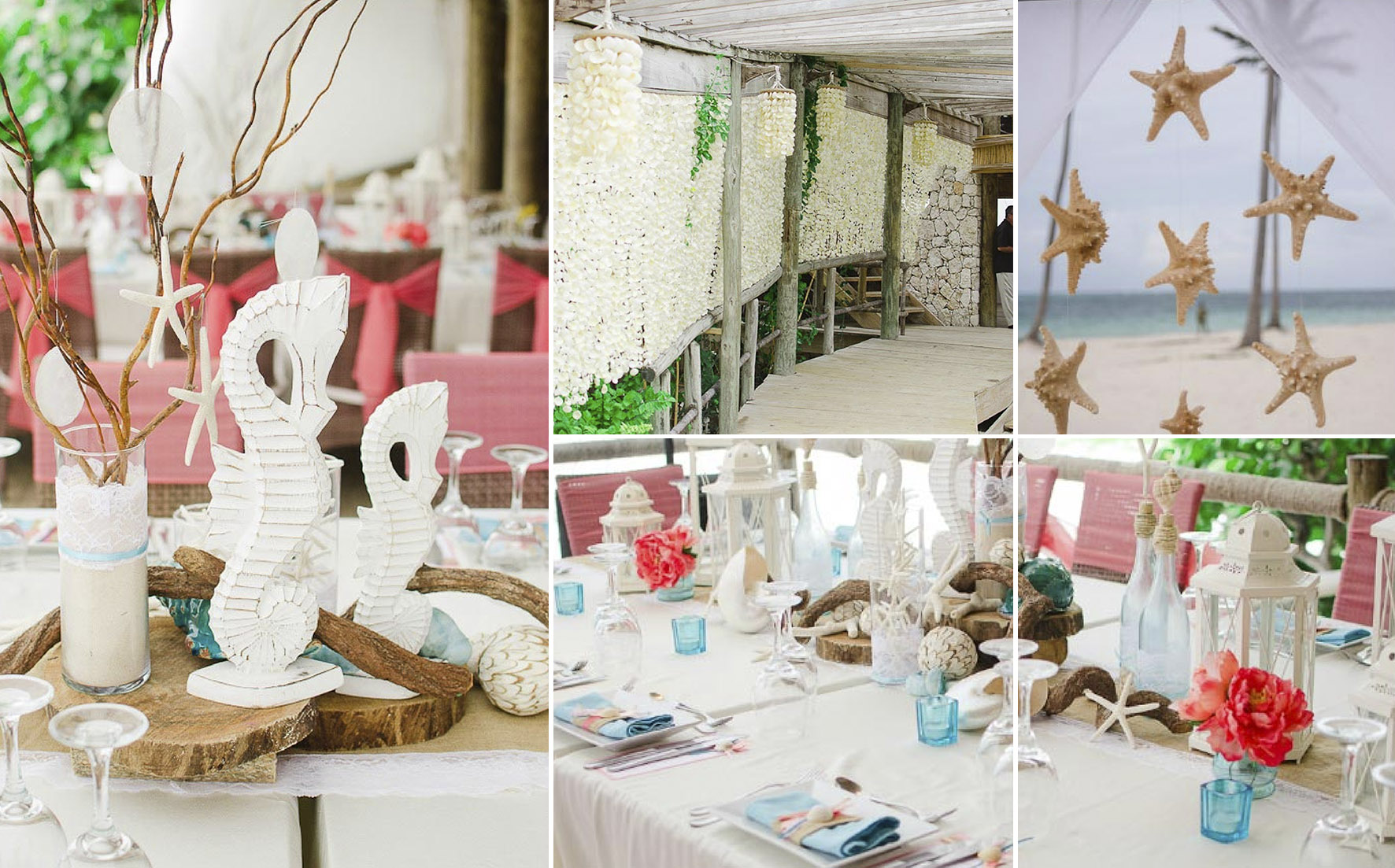 Credits:  Wendy Alana Photography
5. Fruit & spices: you can also consider decorating your table with fresh and dry fruits or spices, you can use pine cones, pomegranates, grapefruit, lemon, berries, cinnamon stick, star anise…you really have many options here!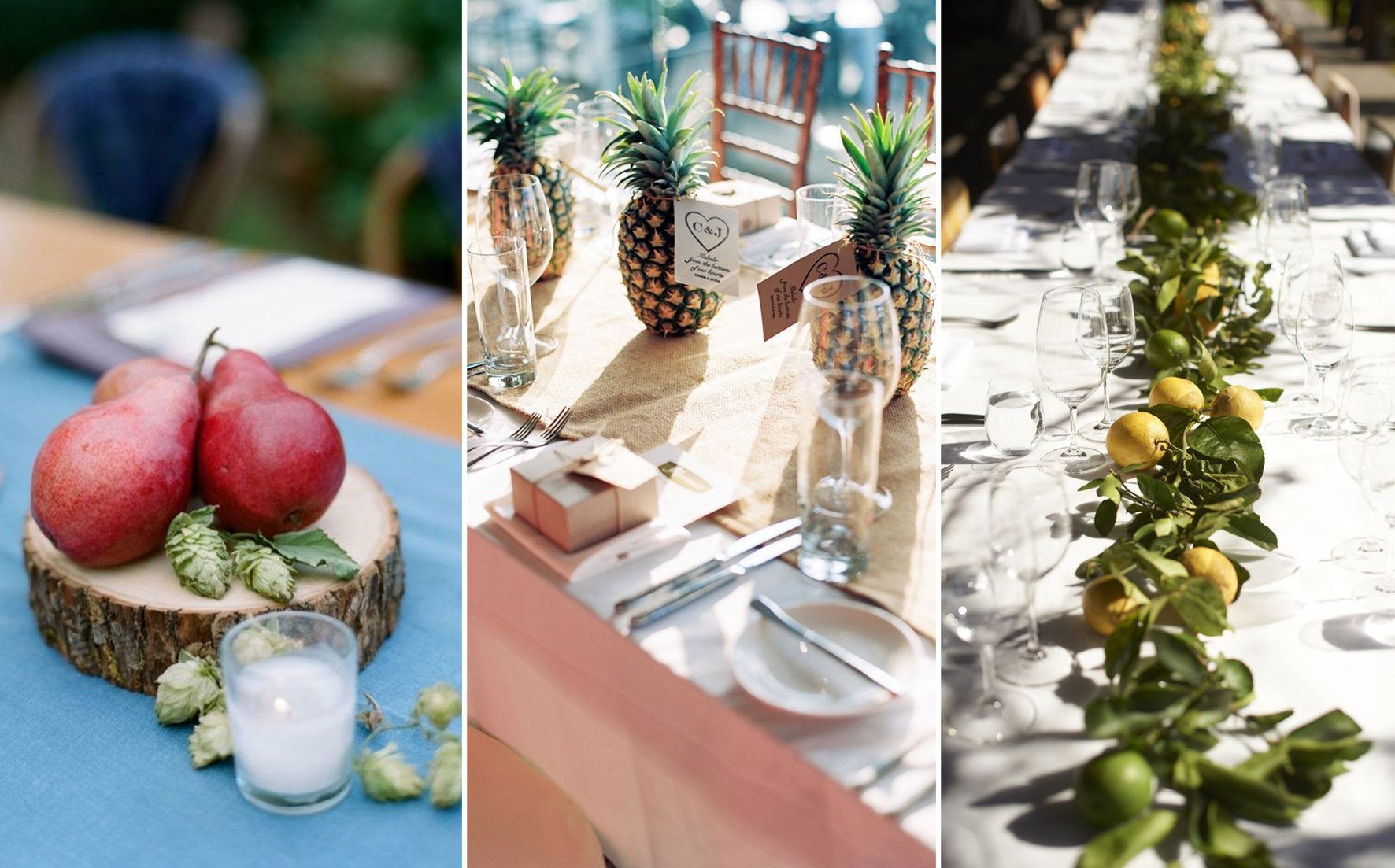 Credits: Brides
6. Pins: use pins instead of traditional boutonnieres for the groom and bestmen! This is really a trendy alternative to flower boutonnieres.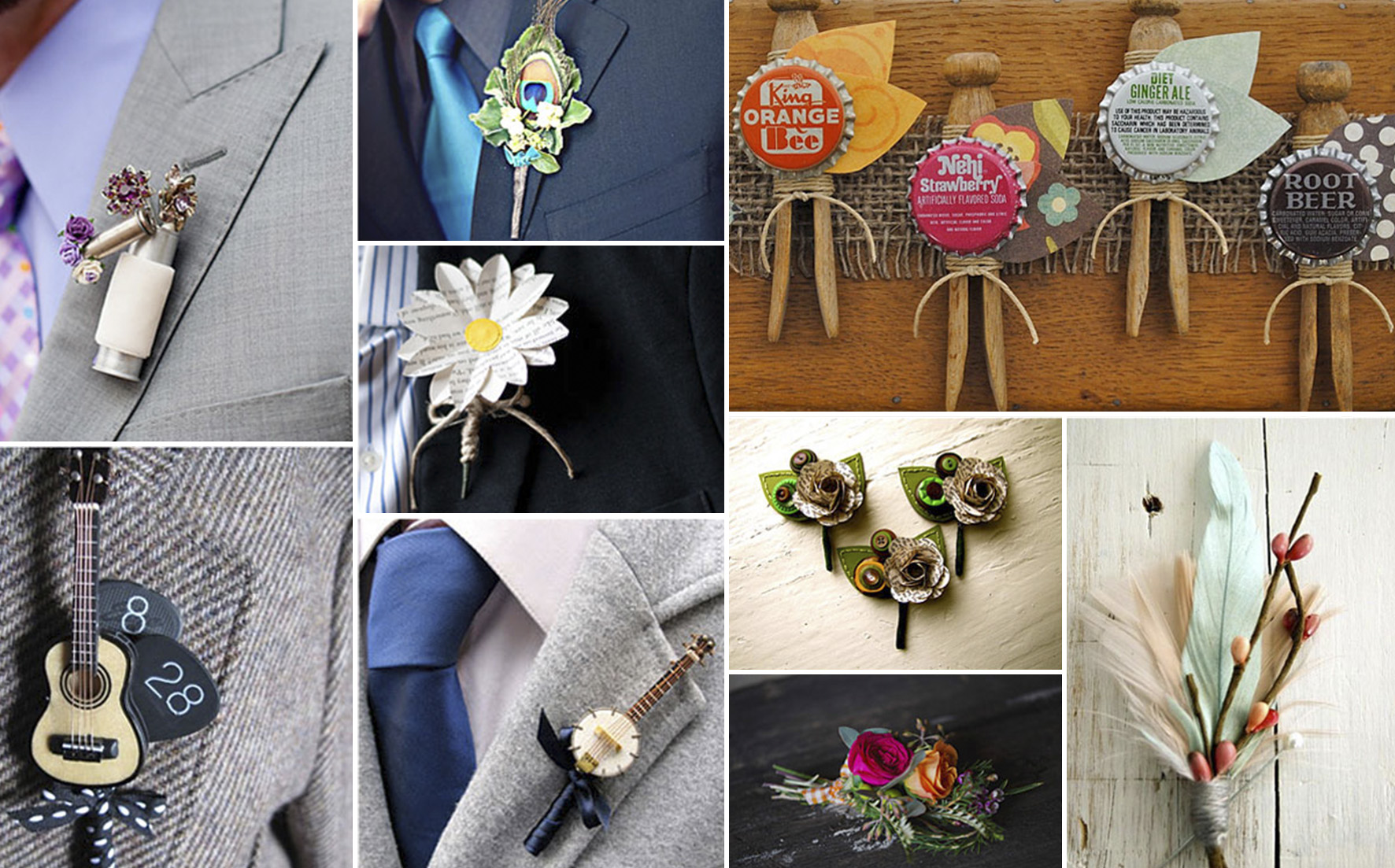 Credits: Beautiful Blue Brides
7. Vegetable/Foliage bouquets: you can opt for a "veggie bouquet" for your wedding, use cabbage, kale, cauliflowers or use foliage, pine cones and berries. You can have a no flowers bouquet and still be chic, do not worry! 😊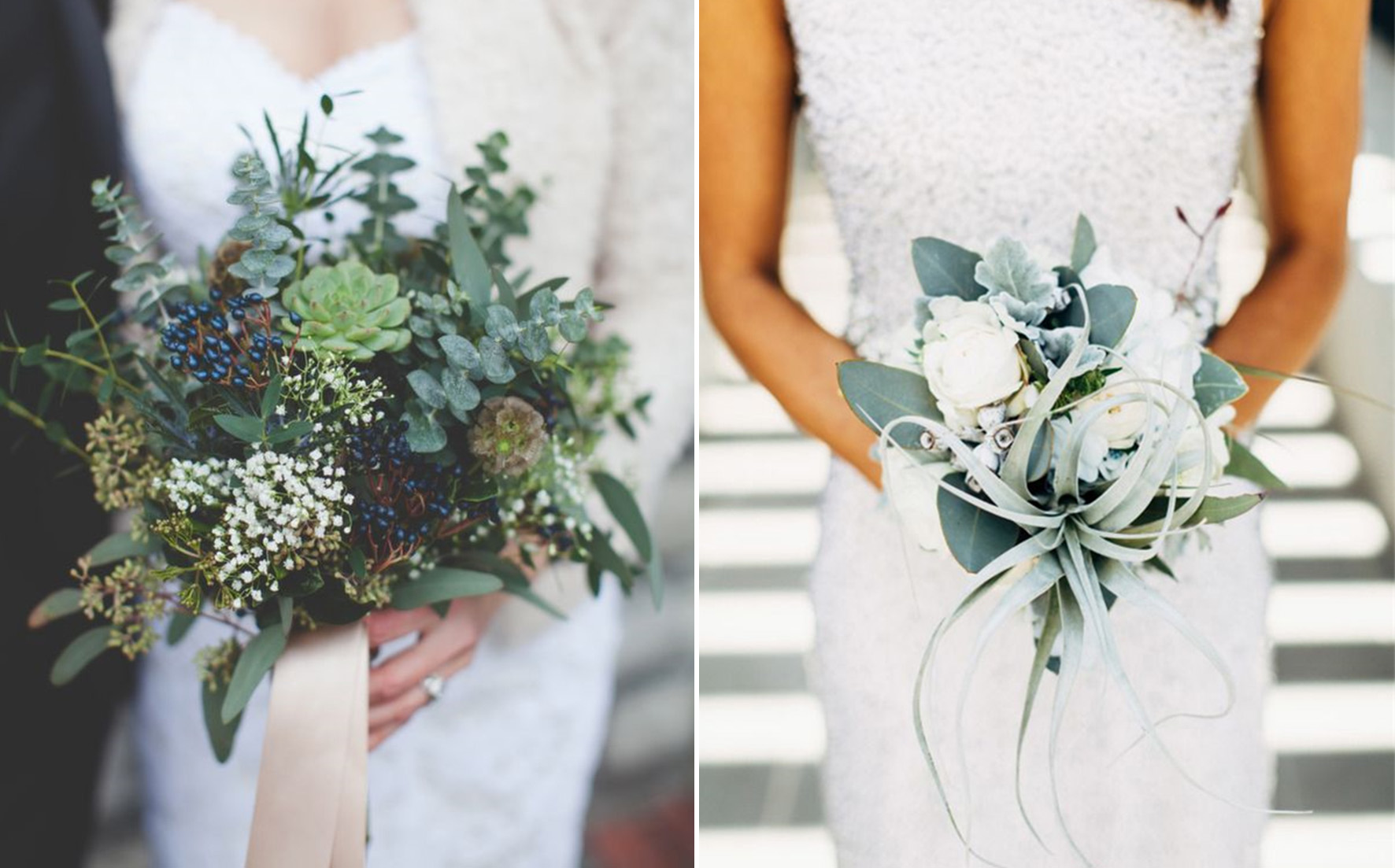 Credits: Deer Pearl Flowers
9. Succulents: other way to avoid flowers decoration is to use succulents, little plants used as centerpiece or accurately placed in specific corners of the wedding reception area. A part from the guests' tables, use it to decorate the bar, the stage and of course the buffet table.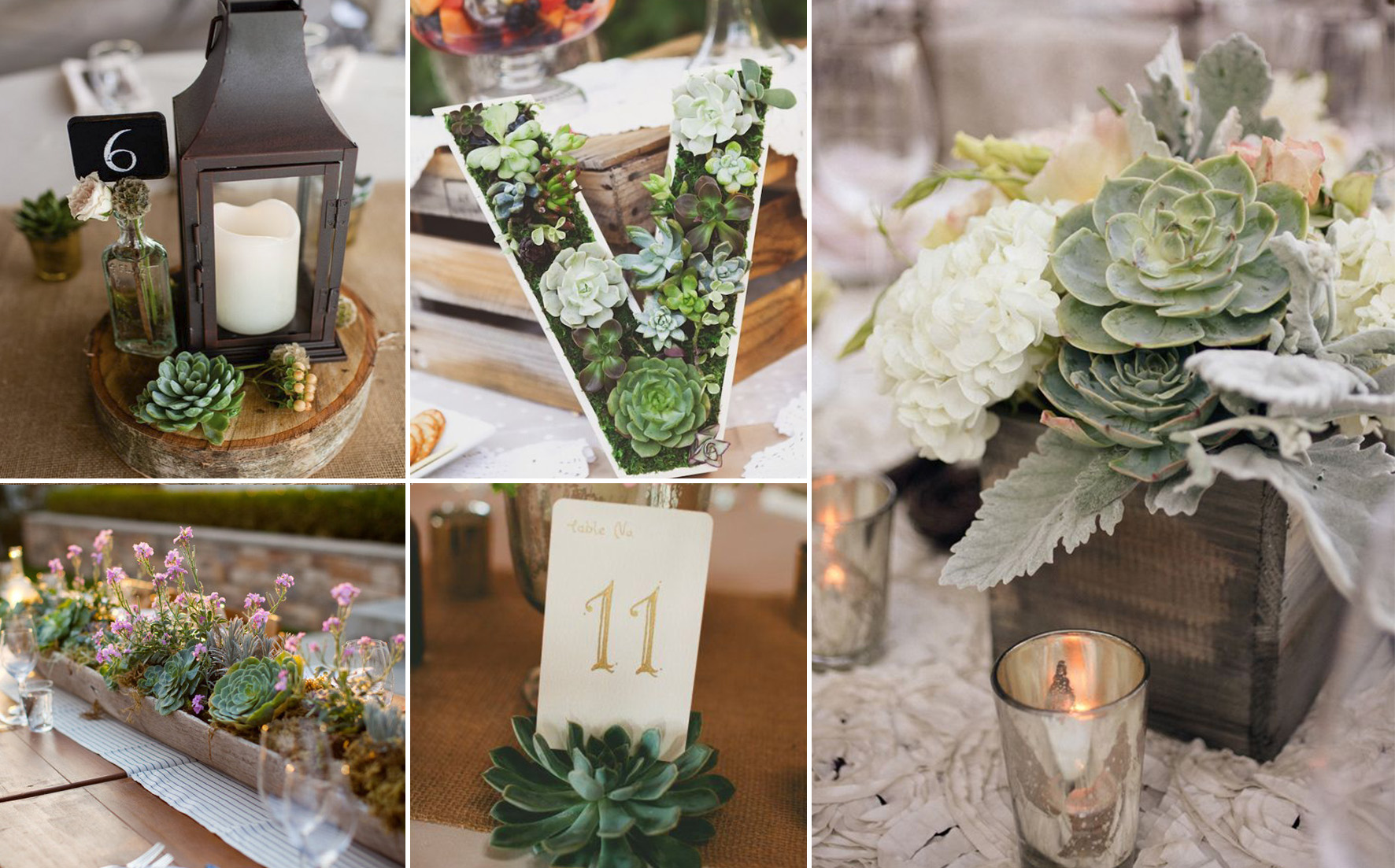 Credits: Deer Pearl Flowers
No flowers decoration elements are very versatile, and the good thing is that you can use elements that have a special meaning for you, they can let you remember specific situations of your love story or your life together as couple, there is more space for imagination and this way you can add a personal touch to your wedding celebration.