Flower bouquets apart from being the perfect complement for a dream wedding have a great importance for brides, and they are a detail you should never overlook. When bride is going down the aisle guests will look at your bouquet for sure, so choose it carefully and most important try to stick with your wedding color palette while choosing color and shape of the flowers.
They have been used as amulets since ancient times, so the choice of a specific flower, a specific color or shape has a meaning, such as purity, good luck, joy, happiness, etc..
Here are some bouquet options from our brides, each one has an important meaning for the bride who chose it.
For a vintage wedding we suggest delicate flowers in light pastel colors, such as light ping, light orange and blue. Pink roses are perfect for romantic weddings, especially mixed with white ones. This kind of bouquet is perfect for sophisticated bride.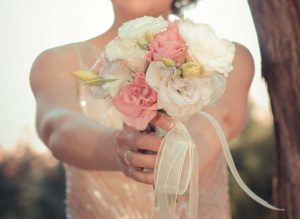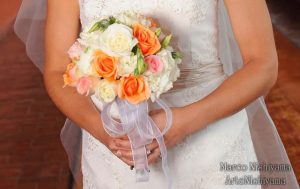 If you want a glamorous wedding red roses is what you really need, better if combined with green foliage. As you know bouquets can have very different shapes, what do you think about a cascade red rose's bouquet, like the one in the picture? We actually loved it!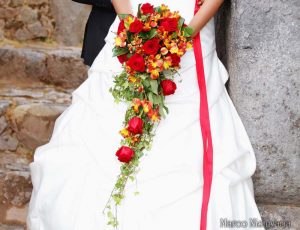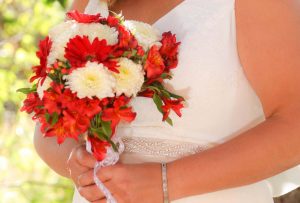 If you want to stick with traditions, you can just go for a classic white roses bouquets, round style! This is perfect for a classic wedding!
Photo credit close up: Maik Dobiey – Marco Nishiyama