The 2018 wedding season is open and we are starting collecting information on the new wedding trends! I noticed that the flash mob culture has extremely increased last year and bride, groom and their guests are starting to work on wedding flash mob all over the world. Yes, I used the word "work", considering that this is something you need to prepare and rehearse several time before the wedding day. As wedding planner, I know that usually weddings are all about timing, there is a very specific schedule that must be followed in details. So I understand that introducing a flash mob would be unconventional for most of you. But this is not impossible, of course what you can do is calculating the timing, and preparing it very well before the wedding day.

credits: Primetime
It could be a bride organizing a flash mob to surprise his husband, or the other way around, or the family and friends who want to surprise the newlyweds. Generally there are bride and father of the bride flash mob, bride and bridesmaids or groom and bestmen flashmobs, etc. Sometimes also bride and groom want to do something different for their first dance and ask some enthusiastic guests to join them for a flash mob. What I know is that everything needs to be perfect! Putting together a wedding flash mob requires patience, time spending on preparation, at least a couple of months, and some athletic skills as well. The result would be a spectacular and unforgettable moment for you and your guests!
Here some tips I can give you on planning the perfect wedding flash mob:
– First of all you need to do an inspection to check your wedding reception venue. It is essential that you see the spaces, if the reception area is too small, check if there is a garden area outside. At some point of the celebration you can ask people to go out to see firework for instance, but once outside they will enjoy another kind of show for sure! 😀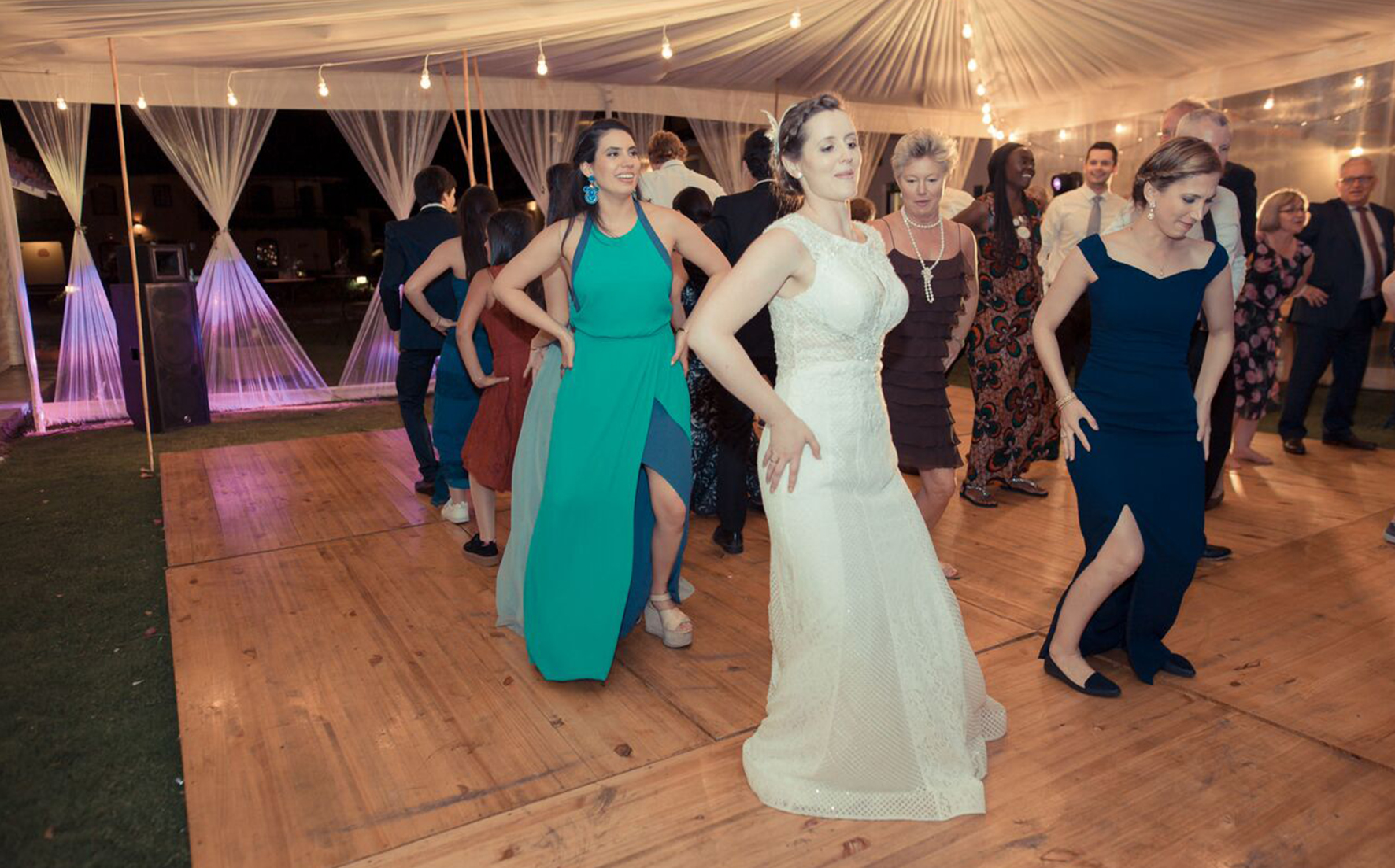 – You need to choose the song. It is very important to choose a captivating melody! It could be a hit or a song that has a special meaning for you both. But nothing too romantic or too sophisticated, people must recognize immediately the song and most importantly have fun!
– Be committed to practice the choreography for at least a couple of months! You can starting by reviewing video tutorials and learn the steps, this is something all the people involved should do before practising all together. You can also produce your own instructional video, so that people can start the work at home autonomously! A flash mob is all about coordination, musicality, sync and precision, so practising it is often the key to succeed.
– Be sure that all the people involved keep the secret! A flash mob is obviously most spectacular with the surprise factor; that way you can see people chatting at the bar and after 30 seconds running on the dancefloor to join the choreography. Perhaps you can use a secret word that once pronounced loudly can "unleash hell"! 🙂
credits: Michael Justin Studios
– If you have hired a videographer, let him know about the flash mob, the time and ask him to keep the secret! This way he can be in the area and film everything.
– Most importantly, choose the right people for your flash mob and do not force your guests into it if they do not feel comfortable taking part in it. People need to be enthusiastic about the experience and have fun. Remember that if you are enthusiastic and happy while dancing, people around you will be too.
Finally, just try to have fun, learn some new dancing skills and deliver the best performance of your life! Be sure that your guests will be amazed and fully entertained on your special day. They will cherish everlasting memories of your wedding celebration now and forever!