Are you in that moment of the wedding planning process? I know…it's a big deal! Choosing your wedding dress is a stressful and extremely important decision a bride needs to make. Let's start from the color, it can also be a huge issue: "I might opt for a classic white, no wait maybe ivory is classier… and if I opt for ivory…which shade of ivory should I go for? … Or maybe a champagne tone goes more with my skin color." We better do not mention the kind of the fabric, should I opt for an embroidered lace or for a more simple option such as satin … should I consider chiffon or tulle … and what about the accessories you might want to use???… it is a huge and apocalyptic decision! As you can see there are soooooo many things you should consider before choosing your wedding dress, but one thing is for sure: try not to make such a big deal!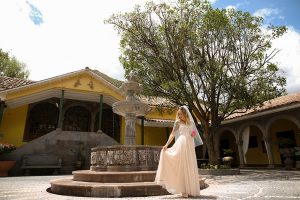 The purpose of this article is to help you consider the relevant and pertinent things before making the big choice. Here a list of things you should definitely consider before going shopping for your wedding dress:
BUDGET: this is an extremely important issue, without money you cannot have the $ 100,000.00 dress of your dream. So prioritize and come up with a real budget for the dress. This should not include accessories, so reserve a part of budget for accessories: veils, shoes (I mean SHOES, other scary and apocalyptic issue!), jewelries, tiaras and more.
DO RESEARCH: you should definitely spend some time researching the web and the major bridal and wedding magazines. You will end up knowing the names of the best wedding dress designers and dreaming about haute couture wedding dresses. Other suggestion I can give you is to prepare some mood boards with what you have in mind, perhaps use Pinterest; this will help organizing your ideas. You can divide the boards based on the dress color, the dress length, the top choices and the less probable choices, etc.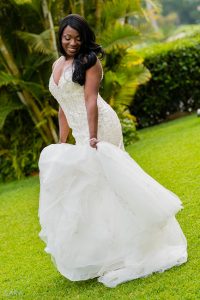 SEASON: take in account when you are getting married. Is it a spring wedding, a winter wedding, a summer or fall wedding? This is something you got to have clear before making your choice. On the season depends the fabric you might want to use, the neckline, the accessories and much more.
TIME AND PLACE: you should consider at what time are you getting married, is it a day or a night wedding? Also what about the venue? Is it a rustic Hacienda, a luxury hotel ballroom or an open space with a tent? All this factors influence your wedding dress choice. For example if you are tying the knot during the daytime you can also consider a short wedding dress.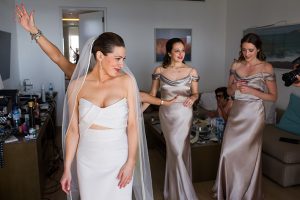 LENGTH: definitely consider length as an important factor and have a clear idea of the length of the dress you are looking for. Are you looking for a floor-length wedding dress? or do you prefer a knee-length? Or what you have always dreamed of was a wedding dress train? And if this is the case, a cathedral train, a royal train or perhaps a chapel train? … So, have this clear before going shopping!
SILHOUETTE: you got to be honest with you and your body. Try to find the dress shape that best fits your silhouette. For example if you have some problems in the hips and thighs you should opt for a ball gown dress, if you have curves go for a mermaid dress, etc.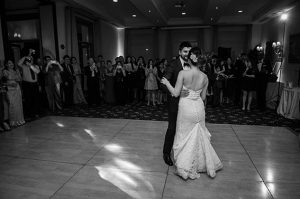 A part from all the items listed above I suggest you to be honest with yourself and also to believe in your instincts, so if you feel like you have just found the dress of your dream, just go for it. Try to make it not so complicated! Also try to think outside of the box and be open to different styles, even if you have your own thoughts on the wedding dress. Many brides opt for dresses that not necessarily reflect their style. So, good luck on your wedding dress hunting!