When planning a destination wedding main goal is to stick with traditions, culture and customs of the country who is hosting your wedding celebration. To my experience, it is always very important for our couples to include the "Peruvian essence" in their wedding ceremony and reception. This is extremely important since your guests will be travelling here and they really want to go back home with a full idea of what Peru can offer in terms of traditions, customs, lifestyle, people, language, food and most importantly they want to know how a wedding in Peru looks like, how do we organize wedding ceremony and reception here, how do we decorate the venue, etc.
For instance some couples choose to have a traditional Andean ceremony in a beautiful site somewhere in the Andean mountains, usually the Sacred Valley of the Incas, other couples choose to have traditional Peruvian music for their ceremony with wind instruments such as panpipes and flutes or stringed instruments like the "charango", we also had brides who decided to wear a wedding dress enriched with a typical Peruvian embroidery or couple who wanted to use Peruvian-style decoration for their ceremony and reception, such as Peruvian fabrics used to decorate the reception venue, Peruvian flowers or cactus as centerpieces. There are many ways to recreate the "Peruvian essence", but there is only one "sweet" way to do so: go for a Peruvian-style wedding cake!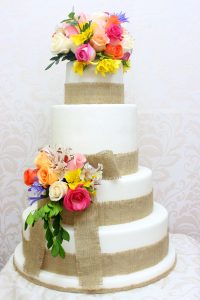 The wedding cake is one of the main actors of the wedding reception, apart from bride and groom of course. So it is actually a brilliant idea to have a Peruvian-style wedding cake to enrich the reception setup and to add a Peruvian touch to your wedding celebration! Usually the cake is placed in the middle of the reception area on a table covered by a beautiful tablecloth in line with the wedding color-palette and with some lighting decorations or candles.
There are different ways to set-up the wedding cake table, you can add decorative elements, candles, petals, special lighting, special tablecloths, decorative birdcages, etc. … decoration is really up to you!  However I can swear that if you opt for a Peruvian-style wedding cake there will be no need to have any other decorative elements, since they could weigh the cake table down. Peruvian decorative patterns are so eccentric, colourful, vibrant that you will not need any other details than the cake itself.
You can opt for a different kind of Peruvian decoration, you can add typical Peruvian flowers or flowers of traditional colors, such as red, blue, purple and orange. These colors are the ones typically used in the famous and beautiful Peruvian fabrics sold in the market all over the country, as well as exported worldwide. As decorative elements you can also use colourful ribbons to round each cake's tier or rustic ribbons to give the cake a country-style touch. It is also very important to choose the right topper for your cake. If you are up to a Peruvian-style wedding cake you can use a beautiful bouquet of Peruvian flowers as topper, or traditional Peruvian characters or two little llamas.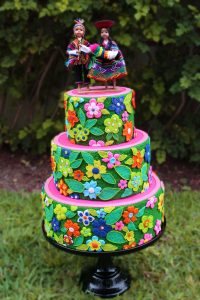 A part from white fondant you can also consider to use colourful fondant with typical Peruvian patterns decoration. Every Peruvian region has a specific pattern and design used in fabric and other handcrafts, for example in Arequipa we have big and colourful flowers, in Cusco we have little geometric patterns and so on. But the truth is that all of them are actually beautiful! This way your wedding cake will look like a traditional Peruvian fabric and your guests will definitely stair at it.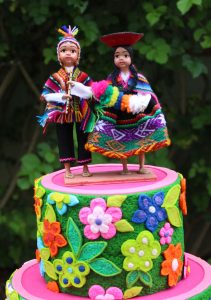 As for the flavors you can actually go for everything you like, but to stick with Peruvian tradition a cake with Brazilian nuts, raisin, candy fruits and pecans filled with "Dulce de leche" could be an option, a traditional chocolate cake filled with fudge is also another good option.
Dulcefina, one of the supplier in our network, has extensive experience preparing beautiful and elegant wedding cakes with Peruvian-style decorations, Peruvian flowers and much more. She uses to work with foreigners who wants to tie the knot in Peru and they perfectly understand all our clients' requests. She has always fulfilled all of our couples' requests and special requirements so far and she is extremely reliable. She has many experience in the market and we totally trust in her work. The cake models shown in this blog article are all made by Dulcefina. You can find more information on her work here http://www.dulcefina.com.pe/.