Find the perfect wedding dress to complement your body shape is a hard one! When shopping for your wedding dress you should focused on colors, fabric, details, but most importantly on the silhouette style of the dress, since it needs to perfectly fit your body shape. This is actually good, since you will see that you manage to limit the endless stream of wedding dress choices on the market.
What does "it needs to perfectly fit your body shape" mean? The wedding dress needs to emphasize your best body features and it needs to de-emphasize your critical areas (large shoulders, tiny waste, broad hips, etc.) The key here is to enhance your figure and make you look amazing for your wedding day!
If you have a full bust and full hips kind of body shape with waist definition you should definitely opt for a classic A-line model which camouflage hips, balance wide shoulders and it is the perfect way to elongate your body line. It's a classic wedding dress style from the 50's and it is actually ideal for several kinds of body shapes such as the apple, pear and rectangle shapes.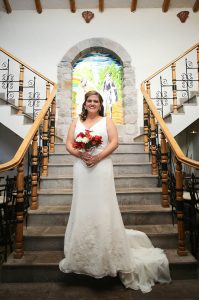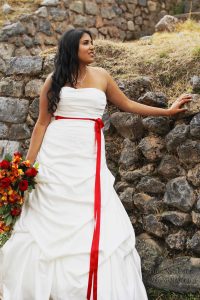 If you have a full bust and full hips kind of body shape without waist definition you should definitely avoid puffy designs and stiff fabrics, so do not opt for the ball gown silhouette style, but rather go for a softer style such as the empire model or the classic A-line dress. This will definitely help hiding your critical area, such as broad hips or big thighs. The empire model has a high waist and short bodice and the skirt begins under the bustline. This style de-emphasizes the waist-line and makes you look taller and leaner.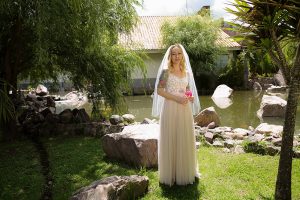 If you have broad hips and little shoulder (triangle shape) you can also opt for a mermaid silhouette style, which follows your body line from the chest to the knees and then flares out into a widening skirt. It is a glamorous and sensual style, ideal for brides who want to show off their curves. This type of dress is not good for apple shape and plus size brides. A special tip: this dress style is ideal for those brides extremely comfortable with their body, so if you do not feel that way it is not worthy to wear it. Remember that the wedding day, you should look awesome, happy and you should not be worried about how you look like or if the dress is too much for you.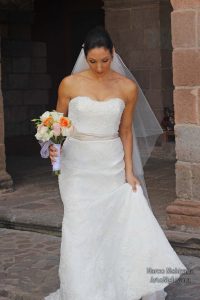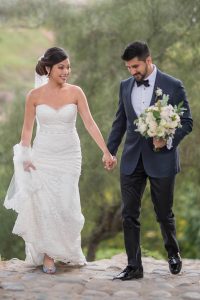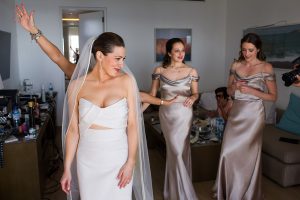 Very similar to the marmeid silhouette is the trumpet model, the difference is that this style has a straight-lined bodice and the cut before the flair skirt begins is more pronounced. It is ideal for bride with small waist, but not for apple share and pear shape brides since it stresses critical areas, such hips and belly.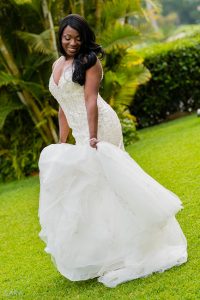 Another classic wedding dress silhouette is the ball gown, which is characterized by a fitted bodice through to a tiny waist with a full skirt. This type of dress is good for almost all body shapes since it balances proportions, but it is not a good choice for short bride and apple shapes with full bust, full hips and no waist definition. A special tip: this silhouette style looks good on masculine figures, since it enhances elegance and bride's feminine side and it gives the illusion of improving your body curves.
If you are short and slim and you are in love with simple and elegant dresses you should opt for the sheath model, a signature of simplicity that extends your bodyline and gives the illusion of height. This silhouette style has no waistline and the skirt falls straight down the floor, this creates a sense of elegance and sophistication.
Overall, what I can say from my experience as wedding planner the silhouette style is essential but it is also important that every bride doesn't limit her preferences and try on all the dresses that she likes. These are only tips, the real wedding dress is also made by the bride, her personality and her appeal. Finally one thing I have personally experienced: that day you will look amazing and radiant, since your happiness will make vibrate everything!