Shoes are one of the most important accessories for your wedding day my dear bride! You got to keep it on mind! Shoes needs to be fashion, trendy, elegant and comfortable!!!
We imagine how difficult it can be to choose the correct pair of bridal shoes! To do the right choice you need to consider several things: they need to complement the wedding dress; I mean the color, the shape of your dress and the length. Remember that even if they are the most gorgeous pair of shoes you have seen in your life they got to be comfortable, since you will wear them all day/night, from the moment you walk down the aisle to the moment of your last dance on the dance floor.
Here we give you 4 shoes ideas from my past weddings. I hope to inspire you!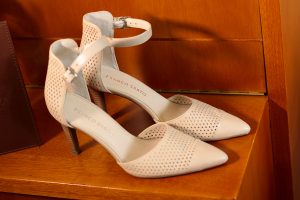 You should certainly consider the place where the wedding will take place, is it a garden? Is it an historic house, is it a hotel ballroom? So if your wedding will be in a garden area you have to be able to walk on an unstable ground, and definitely you have to go for comfortable hills, not so thin.  These shoes were perfect for our bride.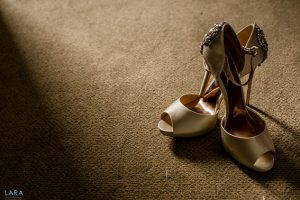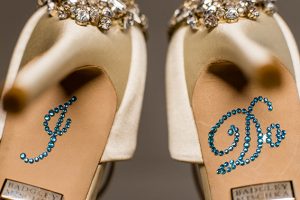 The idea of adding "I do" on the soil was so original, I definitely loved it! Every detail counts, so here the bride really hit the target! We the guests loved the message! In addition the color of the shoes is extremely sophisticated and they are embellished by beautiful stones in the back. Tese shoes were used for a New Year's Eve wedding in a beautiful ballroom in Lima.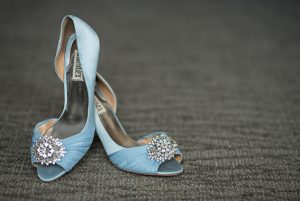 Traditionally most brides choose a classic white or ivory pair of shoes, but there are those who dare with something different like these light blue shoes, which combined with the wedding color scheme. I loved these shoes with this beautiful crystal stone on top!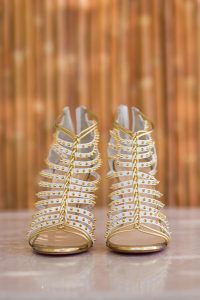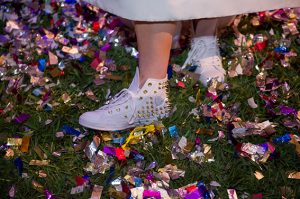 You also have the option to change your shoes. This bride opted for a trendy pair of white and gold shoes embellished with studs, but she knew she could not make it for all night! So she planned to change these beautiful shoes with a more comfortable pair of sneakers with studs details. We really loved her smart idea and she managed to keep the shoes' style! Wearing hills all night is definitely a crazy idea!